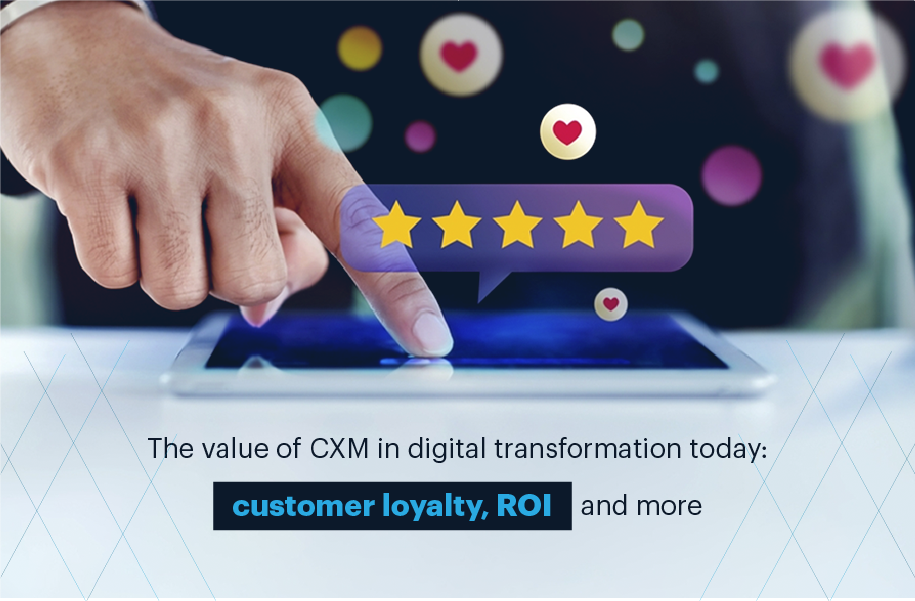 6 min read
Digital Transformation and CXM: Lucidya's Solutions for Success
It has become necessary in business to adopt digital transformation to take it to the height of success. A business must recognize where it is on the journey of digital transformation. It is not a cup of tea to be on the top of this tech because it requires hard labor, money and time to reach such a position. 
Now when it is the age of pandemic, you might realize the importance of digital because in the region of strict lockdown, people have to do business remotely, and the businesses need to provide services to the customers without any delay. It is needed to retain customer attention and attraction for your profit. The leaders needed to adopt the preferred methods and channels of digital transformation to know about the customer preferences and meet business goals. 
Customers are a valuable asset for any organization, and modern technology can help them engage the customers and prioritize their needs. Customer Experience Management (CXM) can be the best tool for any business to get the customers for a long time on their products. 
In this article, you will read about CXM and digital transformation. Moreover, it will reveal the importance of investing in both tools. Furthermore, it will describe how lucidya can help a business as a digital transformation and CXM tool. So let's get closer to the main topic. 
What is Digital Transformation? 
The digital transformation uses technology on product assets to increase customer value, highlight risks underlying the business and introduce new technologies. It works for internal and external operations and has proved its worth in the industry. It covers all aspects of the industry, from sales to marketing and customer experience management. It is right to say that companies need a system with unlimited and adaptable features that contribute to a business's growth. 
What is Customer Experience Management (CXM)?
Customer Experience Management is also known as CXM. It is a system of marketing techniques where the main objective is the satisfaction and engagement of customers. This technique helps record the customers' preference on each touchpoint and department of a business. It is important because the customers need only the things they like, and when the company knows the customer's choice, it only produces the required products. 
In the following, we will learn why investing in digital transformation and CXM is important. So let's get started. 
Why Should You Invest in Digital Transformation and CXM? 
If you want to stand your business on a sustainable commercial status, it is wise to invest in digital transformation. The investment does not always mean money, but it also includes energy, efforts and time. Here are some of the most common reasons to convince you that your business needs this latest technology. So let's discuss them one by one. 
More Focus of Consumers on Visual Content 
One of the biggest things that make it essential to invest in digital transformation is people's focus on more visual content. People prefer to watch digital videos. And it would help if you captured the attention of the targeted audience by providing engaging material. So, digital channels can be the best option to provide the required material to help businesses grow by working closer to the customers' interests. People are hungry for visual content that makes a business potent to adopt digital transformation and retain the customers closer to the brand. 
People did not Prefer Postage Stamp.
It is the age of digital marketing, and an average college student does not like a postage stamp. The analogue methods to reach the potential customers might not help a brand get the required outcomes. So here, it becomes necessary to adopt digital ways to grow business and adopt limitless technologies. A company that does work on personalization cannot lead to success. So always focus on what your audience is looking for, and success is sure. 
More Usage of Mobile Centric Application 
Another fact that can add more strength in the convincing arguments is that a study shows more than 60% of people use mobile phones, and even they sleep by putting their mobiles under the pillows. More people's technology can be an important way to deliver messages. So a business needs to introduce mobile applications like landing pages, social media content and other mobile-centric strategies. Those with a mobile mindset can understand more about your offering on mobile phones rather than listening to a TV channel. So how can you deny the importance of digital transformation? It is good to adopt it today rather than making delays. 
Relationship of Technology with Companies 
More than 75% of companies realize the importance of technology and digital transformation in their businesses because they believe they will be at significant risk if they fail to embrace digital applications. They will fall behind in the race of increasing revenue. So if you want to be a horse of the long run in marketing and accurate business strategies, you should not avoid the impacts of digital transformation. 
Future of CEOs with Digital Understanding is Bright 
Those who have a deep understanding of the technology and know-how to meet the new requirements will be the industry's leading professionals in the future. If you are running a business but lack the understanding of digital methodologies, it is the right time to start learning these skills and take them to the height of success. To become a successful future leader, you have to build a solid or above-average understanding of the digital age. 
IoT Understanding 
With the adoption of digital transformation, one will also understand the Internet of Things (IoT) which plays a vital role in the leading sectors. You can also invest in IoT and other business-enhancing effects which meet the customer requirements and accelerate your business towards commercial success. So don't waste time thinking. Just give a chance to a tool that offer digital transformation and customer experience management capabilities like Lucidya. 
Boost in Revenue 
One of the main objectives of any business is to increase its revenues. The study shows that more than 50% of managers of the companies feel that the advancement in digital technologies has increased revenues. So, it must be clear for you how investments in digital transformation can help you grow your revenues. It will encourage you more on the usage of digital technology. The research has also shown that the revenue increase has influenced the industry from the last two years. And it is right to say that the more significant facts of digital technologies are not so far. A business needs to adopt the technology and more proper channels to reach potential customers to stay consistent.                                        
Cost Reduction 
Due to digital transformation, the cost of arranging events and gathering people has decreased because the business has become intelligent, and they reach potential users through social media and other mobile-optimized applications. The advertisement goes online, so the cost of the papers and offices has decreased. Businesses can spend this money on more productive aspects of the brand to increase revenue. 
No Need to Increase Overall Market Investment 
Most marketers believe that spending on digital aspects does not mean increasing the budget on the spending of overall marketing strategy. You can reallocate your current budget to digital channels that can help you to be in the lane of success. 
More Population is Digital Native 
Almost half of the world's population is under 30, which means there are more chances for businesses to grow digitally than manually because the young generation is more dependent on the digital world than accurate figures. 
Why Try Lucidya for Digital Transformation and CXM?
Customers are the center of your business, and lucidya is a brand marketing tool that values your customers. It helps to know what customers want by knowing their experience on all sites of your brand. It provides real-time analysis with AI-powered tools which make you aware of what is happening with your brand and products. It is not enough. It also keeps track of your brand's competitors and suggests some new digital techniques to adopt for successfully beating your opponent in business. It provides customer insight and makes it a more secure and seamless customer experience. 
Conclusion 
The post-pandemic is encouraging people and businesses to become more digital. It is because they have found the remote communication methods and channels that help to reduce business expenditures. The definite success is for those who have adopted the technology as quickly as possible. It has helped to make intelligent business decisions, and those who failed to get profit will be the ones who have not recognized the power of AI in the business and take time to adopt new technologies. Digitalization is inventing new ways to do business, and personalization has made it possible to work closely to the interests of potential customers and capture the attention of new customers. 
A study has claimed that up to 80% of top managers have started adopting digitalization in their business. We live in the digital age where the emergence is uncertain. So businesses have to be ready to meet5 the new changes to assure business success. 
Suppose you are looking for a tool that offers you the best digital transformation features. In that case, you must have a trial of lucidya, which is an Arabic marketing tool with multiple features like digital transformation, customer experience management, social listening, crises management and many more. Hopefully, it will provide you with a great experience.
Follow us on social media