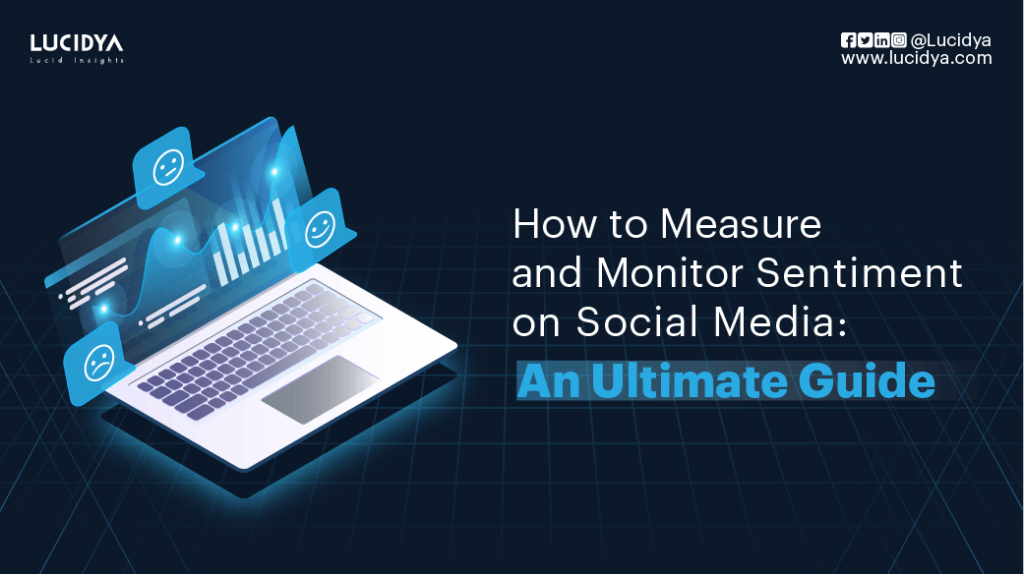 4 min read
How to Measure Sentiment on Social Media | Social Media Sentiment Analysis
How to Measure Sentiment on Social Media?
When a product is released on social media, there is always gossip. You might receive tweets, posts on Facebook and Instagram about your product. But it would help if you determined whether it is positive or negative. This is where social media sentiment analysis comes in. To understand the entire picture, you need to look at the sentiments of people towards your brand.
It is essential to take care of your brand's health, and you have to know about the feelings of your customers in this context. Social media sentiment analysis tools are available to give businesses a way to develop and grow.
Suppose you are running a brand or a company and want to know about the feelings of your potential customers and other people visiting the posts of your brand on any social media platform. This article will tell you about the social media sentiments, their importance, and tools or metrics used to measure these sentiments.
What is Sentiment on Social Media?
Social media sentiments are people's emotions about your products and brands when you post any update about them. These are also known as social sentiments. These sentiments can be positive, negative, or neutral. You cannot say that social sentiments are the number of people talking about your brand and giving feedback about your products. These are the feelings and emotions behind the comments, conversation, and feedback. This is also known as brand sentiment.
What is Social Media Sentiment Analysis?
Social media sentiment analytics is a tool that helps to inform businesses how people are interpreting their brands or a specific product online. It involves the emotions of your brand and considers the feelings and opinions of people who commented on your post. It collects all the information and people's comments from social media platforms. Social media sentiment analysis gathers information and then analyzes it to make valuable insights. If you want to monitor your brand on social media and want to improve the quality and performance of your brand, then you have to measure the sentiments on social media.
Why is Social Media Sentiment Analysis Important? 
You might be thinking that if there are tools and facilities on social media which tell you about your followers, likes, views, comments, and feedback, then why is there a need for sentiment analysis. These are the simple ways to tell you how many people are talking about your brand but not tell you what people are talking about and how it will affect your brand, that is positively or negatively. It is the social media analysis tools that help you to get the answer to the said question.
You can realize the importance of social media sentiment analysis when you get a lot of alerts of mentions and tags on your post on Facebook or any other social media channel. You might think that it is excellent that people mention you in their comments, but the words might be harmful, or the mentions are due to some anger about your brand or products. So all your excitement turns into worries as the opinions are negative. Which makes it necessary for you to get the help of some opinion mining tools which dig out the real meaning in the posts and mentions of the people.
A brand should choose a social sentiment analysis tool to understand the following.
Understand the type of audience you target
Improving customer services
Product development steps
Understand your position in niche
Identify social crises before it happens or at early stages
So if you want to do all this, you should monitor social sentiments and try improving the products and branding according to the customers as customers are an asset for every company. In this way, you can control the customers' emotions by correcting them and preventing customer losses.
How to Conduct Social Sentiment Analysis? 
If you want to analyze social media sentiments about your brand, you should first collect data. If you're going to make this process fast, easy, and secure, you have to use some powerful tools, but if you do not have enough budget to spend on powerful tools, you have to do some extraordinary search that requires more focus and attention. It would help if you did the following to monitor social sentiments using analytics tools.
Monitor Mentions of Your Brand
The first step of sentiment analysis on social media is to find what people are saying about your brand online. A challenge for you in this strategy is that you have to check it out yourself, as the comments might not mention it but are talking about your brand. It can be a challenging task to identify such discussions.
But some tools can help you to monitor mentions on your brand. Lucidya is an Arabic content analysis platform that provides social media sentiment analysis. So if you want to watch all the statements and comments on your brand, you can give this platform a chance; it will take you to the right decision.
Monitoring sentiments on social media without taking the help of any professional tools can be a waste of time. You might fail to produce accurate results by spending hours finding mentions that a social media sentiment analysis tool can find within minutes. It can monitor social sentiments regularly without considering day or night.
Lucidya allows you to track the mentions of your brand on each social media platform. For example, on Twitter, it will enable you to monitor keywords and hashtags of your brand, so you can watch the hashtag relevant to your brand name or product name. But you have to create a stream of your brand and product name.
Analyze Sentiments in Mentions
Once you've gathered the data of mentions of your brand, then it's time to analyze sentiment in these mentions. You have to determine whether a person mentions you positively, negatively, or is neutral about your brand. It would help to study the keywords people use in the comments on your brand's posts. Another thing that can help is for you to look for the words that people can use to describe your brand. Positive words might include love, best, unique, and perfect. And the negative comments might contain words such as worst, awful, hate and evil, etc.
There might be other terms specific to your product, industry, or brand. But if you are using Lucidya, you can automatically search these terms on your brand. One of utmost importance is that you read the context to identify positive or negative comments. Here you should make separate lists of positive and negative words and then scan them for your brand.
Social Sentiment Report
After gathering the required data, you should put it into a report. You must include the following in your social media sentiment report.
Total number of engagements of your brand with people in a specific time interval
Total count of the mentions for your brand
Percentage of positive and negative mentions in figures
Total sentiment score that you can calculate with positive mentions as a percentage of full mentions
You can make this report by yourself or adopt some software solutions to prepare an account for you automatically.
Follow us on social media