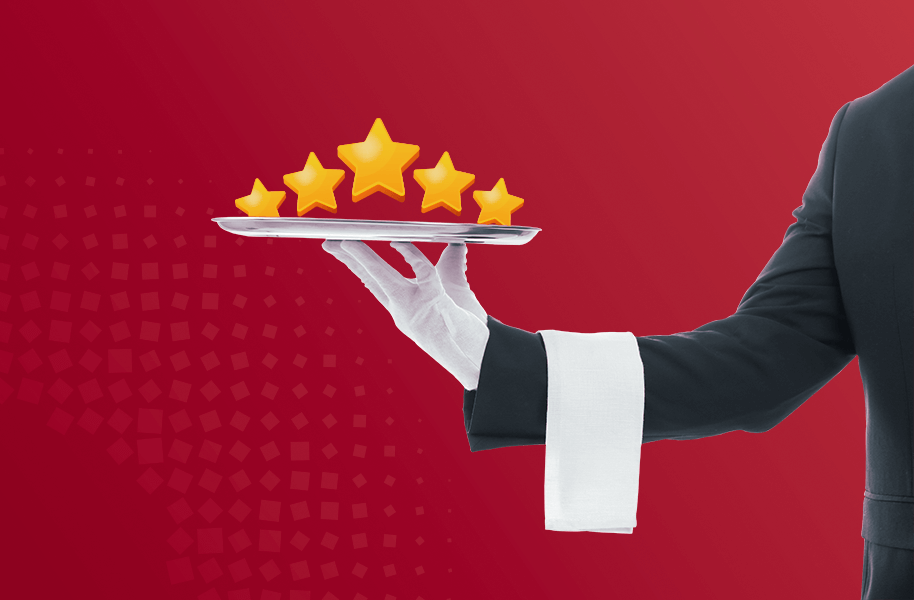 7 min read
Restaurant Reputation Management:    9 Tips to Boost Your Online Presence
When a group of friends decide to go to a restaurant and someone suggests a specific venue, what would be the first thing they do?
Typically, they search for information about the restaurant online. They might search for the restaurant's name on Google Maps, look for it on social media, and read comments and customer opinions about the menu, prices, and customer service.
This is because people tend to avoid taking risks when it comes to trying out new restaurants, and negative reviews can deter them from visiting a particular establishment.
It's important to note that a restaurant's reputation isn't just managed within its physical walls but is also built online. In this article, we'll explore the concept of restaurant reputation management, its significance, and the key strategies for establishing a positive online reputation for restaurants.
What is Restaurant Reputation Management?
Restaurant reputation management involves monitoring and controlling the image of a brand both online and offline. It enables restaurants to gain insights into how current and potential customers perceive their brand, and use that information to improve, develop, and progress their reputation.
Why is online restaurant reputation management important?
The COVID-19 pandemic has drastically altered consumer behavior, and over 90% of diners now report searching online before visiting a restaurant.
As customers heavily rely on online reviews, comments, and ratings to determine where to eat, managing a restaurant's online reputation has become the critical cornerstone in its success. This is why reputation management should be a top priority for all brands, but especially for restaurants. The following are steps restaurants can take to enhance their online reputation.
Effective Strategies for Managing Your Online Restaurant Reputation
To achieve a reputation of excellence for Restaurants we suggest the following strategies:
Improving your Online Presence
When we talk about the presence of brands on the Internet, we mean the restaurant's social media accounts and website, and the following is required for both:
The Restaurant's Website
It is important to optimize the restaurant's website for search engines. This involves indexing the site, optimizing its loading speed, and ensuring compatibility with mobile devices, as browsing on mobile devices is more common than on desktops nowadays. This applies whether the site is being visited by a regular user or a potential customer.
It is also essential to consider whether the website provides comprehensive information that can answer all potential customer queries. This includes contact information, business hours, and how to reach the restaurant. By addressing these questions and concerns through the website's content, the customer is more likely to spend longer on the site and may even proceed to place an order.
Social Media
Social networking sites provide a first impression of a restaurant. If the photos on Instagram are visually appealing and showcase customers enjoying their meals and overall experience, it can motivate potential visitors to want to dine there. Conversely, negative comments and feedback on these platforms regarding the services or staff may deter visitors, potentially causing them to leave and not return again.
Lucidya offers a social listening service to find out what customers think about restaurants on social media.
Order Lucidya's free demo now and benefit from the advantages of our social listening tools.
To maintain a strong online presence, it's essential to continuously update the restaurant's information on social media platforms. This includes food orders, opening and closing times, and any relevant information for customers. It's important to ensure that the content is not only accurate but also creative and easy to consume.
To ensure better channel performance on social media, Lucidya can be used to analyze channels.
Use Google Alerts
Google Alerts is a tool that enables users to stay informed about anything published on the web or social networking sites about their business, whether positive or negative. This provides an opportunity to take action and improve any negative feedback while also leveraging positive feedback for marketing purposes, ultimately boosting the restaurant's brand.
To use Google Alerts, simply sign up and customize your settings, including when you want to receive email notifications and the specific areas you want to monitor.
Asking Guests for Reviews and Feedback
After providing customers with a valuable service and a unique restaurant experience, it's appropriate to ask them for positive reviews and feedback, encouraging them to describe their experience. This request should be made on the principle of giving back for the enjoyable experience.
It's important to monitor and improve comments on all platforms, including communicating with commenters and asking them about the reasons behind any negative feedback. Taking the necessary steps to address these issues and satisfy customers may lead to a change in their initial negative comment.
It's crucial to take customer comments seriously, as 76% of customers read online reviews when it comes to local brands, and 87% of those use the Google browser.
Managing your "Google My Business" account
Customers often use the "restaurants near me" feature on Google to search for local restaurants. This feature displays restaurants in the area according to the user's location, along with the restaurant's profile on Google Maps. If a restaurant does not update its information regularly on these platforms, it can negatively impact its online reputation.
Mistakes can happen when managing a restaurant's online presence, such as forgetting to mention that the restaurant may be closed during prayer times on Google Maps. This can lead to frustrated customers who may leave negative comments or reviews that can harm the restaurant's reputation. To avoid this, it's important to regularly update the restaurant's online accounts with accurate and complete information.
Did you know that 88% of consumers who search for local businesses on their mobile phones visit or call the store within a day. Therefore, it's crucial for restaurants to focus on improving their profile on Google My Business and optimizing their website for search engines. This can help increase their visibility and attract more potential customers.
Digital Asset Optimization
The reputation of a restaurant is a valuable asset that requires careful attention and maintenance, much like any other asset. Today, a restaurant's digital presence is also a critical aspect of its reputation. This includes all online accounts, such as its website, blog, and social media profiles, as well as its presence on Google Maps and Google My Business.
To improve these digital assets, it's essential to work with professional experts who can analyze the data provided by these channels and make informed decisions to optimize performance.
Replying to All Comments
Have you noticed that when a social media influencer responds to all comments and values the opinions of their followers, it is seen positively? Rather than being looked down upon, they are respected for valuing the feedback of their audience, even if it includes negative comments.
It may seem counterintuitive, but negative reviews can actually be more beneficial to a restaurant than positive ones. Negative feedback allows the restaurant to identify areas for improvement and stay competitive in the market.
When a customer leaves a negative review, the restaurant owner is prompted to address the issue and find a solution. If the problem is resolved, the customer may choose to edit or remove their negative review. However, if the negative review remains, it can provide valuable information to potential customers who are considering the restaurant's services and reputation.
Attention to Mobile Users
Mobile phones have become the primary device for internet access, with over five billion users relying on them, accounting for 60% of internet users. As a result, website owners must ensure that their site, its content, and posts are mobile-friendly while still catering to desktop users.
But what does this have to do with reputation management? Consider this scenario: Two friends are planning to visit a restaurant for lunch, and one wants to browse the menu on their phone. However, if the menu is not mobile-friendly and doesn't appear properly, the friend may become frustrated and leave a negative comment or discourage their friends from visiting the restaurant. This type of word-of-mouth marketing can harm the restaurant's reputation.
Rather than canceling their browsing and trying a different restaurant, the friend may choose to leave a negative comment or discourage others from visiting the restaurant due to its lack of mobile-friendliness. This can result in negative word-of-mouth marketing, which can harm the restaurant's reputation
Provide Unique and Proactive Customer Service
In the customer journey, the customer is the hero, and as such, it is essential to provide a unique and excellent customer experience. This begins with introducing the restaurant and presenting it to the customer on the site or social media platforms, and continues with the customer's experience in the restaurant.
To provide a memorable experience, it's important to ask customers for their feedback and address any shortcomings they may have encountered. In addition, customers should be asked about their food preferences, allowing them to describe their unique experience and how they perceive it, and the restaurant should strive to provide it. However, it's also important to balance the interest and reputation of the taste with the customer's satisfaction to provide the best experience possible.
Competition Monitoring
Observing competitors does not mean merely keeping an eye on them. It's not recommended to compare ourselves to major players in the market. Instead, we should monitor our competitors to learn from their mistakes, understand what's available in the market, and identify any oversaturation that may cause customers to lose interest. By doing so, we can provide what customers aspire to in creative and more professional ways.
Prioritize Progress Above All Else
Continuous learning, growth, and development are crucial in managing the reputation of online restaurants. This can be achieved by leveraging customer feedback and suggestions to improve and refine operations. Ensuring that the customer service team responds appropriately to all complaints, criticisms, requests, and suggestions and promptly escalates them to the appropriate officials for consideration, application, and resolution of any issues is also essential.
What constitutes risks to the restaurant's reputation
It's undeniable that a restaurant's reputation is its most valuable asset, and it's natural for the owner or CEO to be concerned about maintaining it. Take, for example, a local restaurant that has built a loyal customer base by consistently delivering high-quality meals and even offering discounts and freebies on special occasions. 
There's no denying that if an owner of a large and influential social media account posts a negative review claiming that the restaurant is unclean and that the food caused them to become ill, the restaurant will likely suffer a short-term loss of customers. 
However, if the owner or manager understands the importance of managing the risks to the restaurant's reputation and takes steps to address any issues, they can correct the course and minimize the long-term impact on profits.
The owner or manager must publicly acknowledge what went wrong and outline how they plan to address the issue to regain the trust of their customers.
Restaurant Reputation Management Tools from Lucidya
Social media is one of the most widely used communication channels for building relationships between consumers and brands. However, if a brand's social media accounts fail to meet customer expectations and comply with the required standards, it can pose a risk to the reputation of restaurants and other businesses.
Monitor  your restaurant's reputation and order Lucidya's services now
Conclusion
The reputation of a restaurant is one of its most valuable assets, as it can either attract or deter potential customers. As such, it's crucial to take care of and continuously improve the restaurant's online reputation. This may require seeking professional assistance to ensure it's done with the utmost professionalism. Don't hesitate to ask for help when it comes to managing your restaurant's reputation online.
Follow us on social media