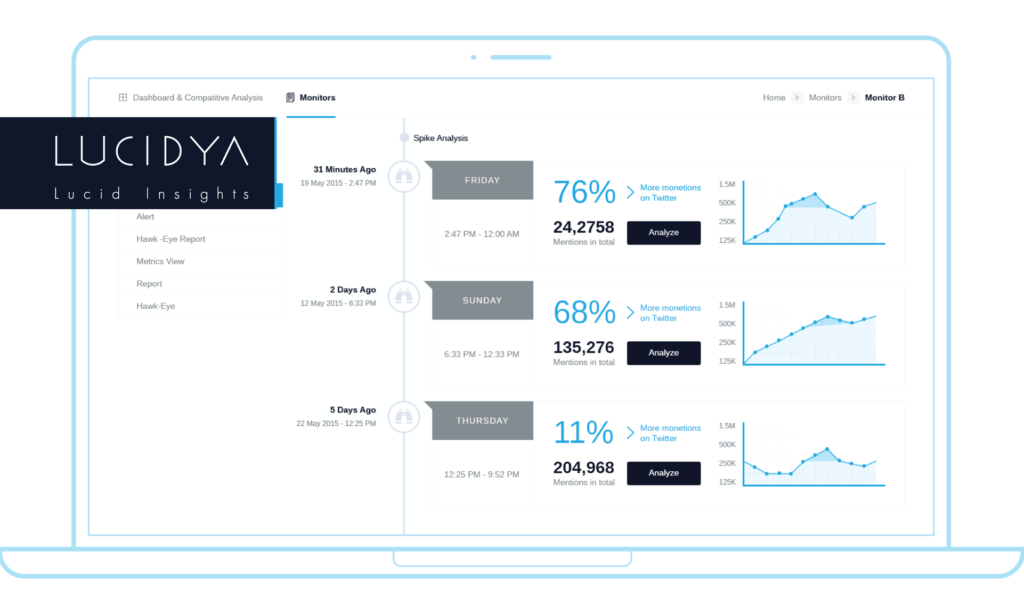 Unlock the Full Power of Social Media Analysis with Lucidya
During the past few years; social media websites have proven to became a main component of digital marketing. They greatly switched the methods by which products and services are marketed. Thus, social media websites now give companies an unprecedented opportunity to connect with customers and target clients. Hence the importance of follow-up and social media analysis on an ongoing basis has become vital. In this article, you'll know how Lucidya can help you in analyzing the performance of your social media channels effectively.
Competitors Social Media Analysis
Lucidya gives you the opportunity to learn about all the activities of your competitors. And, knowing what your competitors are doing, gives you the opportunity to compete successfully in today's market. Using social media analysis tools like Lucidya can help you to identify the types of content published by your competitors and measure their effect. This helps giving you a better insight on what you need to do to overcome this competition. The analysis of competitors also helps you to avoid common industry mistakes when you build a project or promote a product.
Know your clients better
One of the most important features of Lucidya is that it gives you the ability to get acquainted with the habits of users, and purchasing behaviors, as well as the way they interact with your published content. The more information you have about your target market/clients/users, the easier you can reach and influence them.
Improve performance on an ongoing basis
One of the disadvantages of the traditional marketing was the inability to assess your performance on an ongoing basis. Such assessments are necessary for making fast decisions about whether you are approaching your goals or not. Therefore comes the importance of Lucidya's real-time analytics, which keep you informed about the performance of your marketing campaigns, favored content types by users, etc..
Today; knowing what works and what doesn't is essential to your success. Lucydia got you covered in this.
Save time & money
You can now Identify areas in your business process that you may need to develop or improve, and effectively evaluate in terms of marketing campaigns.
Improved ROI
We all think twice (and sometimes more) before considering any marketing/advertising decisions. And so listening tools like Lucidya enable you to track sentiment about your brand's activities, and identify the right channels (or content types) you should be investing in, to give you better return.
Follow us on social media