Start making data-driven decisions.
We monitor all online content whether on Social Media, websites or blogs to give realtime analytics on everything about you or your competitors.
Full-fledged Intelligence Solution
We help you making smarter decisions
with our cutting edge technology
Street-level location-based analysis using Hawk Eye
Visualize billions of live-streaming and historical posts on map in realtime to discover patterns and start connecting the dots.
Zoom from a global view right down to street level.
Try it now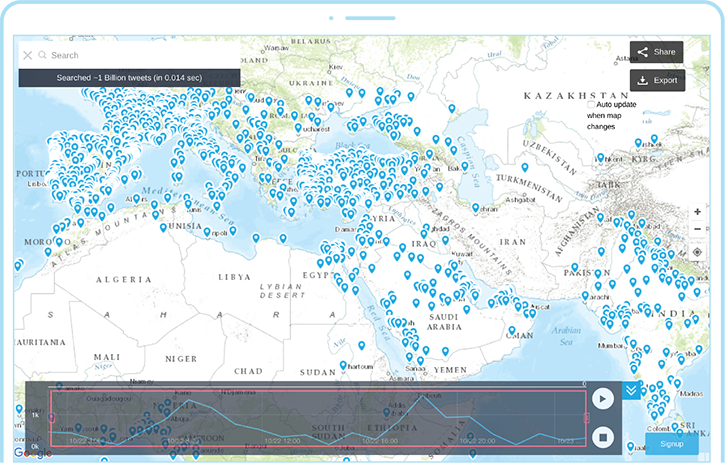 Spike detection & analysis to catch trends at the beginning
Simplified, easy on the eye metrics & statistics that tells the story
Realtime alerting system to keep you tuned all 24/7
Automated comprehensive reporting for you and your management/clients
Competitive analysis & benchmarking dashboard
Customizable dashboard easy to setup
Automated trend detection and cause analysis to be able to know what about to trend, started by whom and who is endorsing it.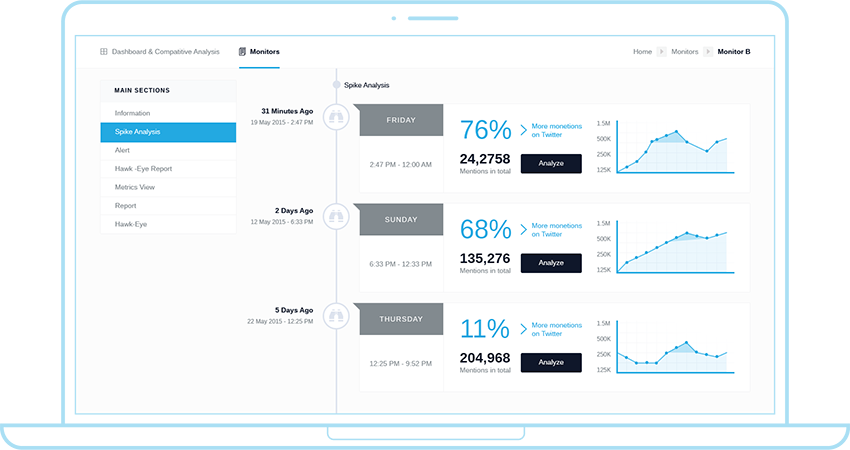 Know more about conversations & opinions by diving deeper in our data ocean equipped with our content analysis intelligence. Analyze all the content and authors who speak about you or your competitor.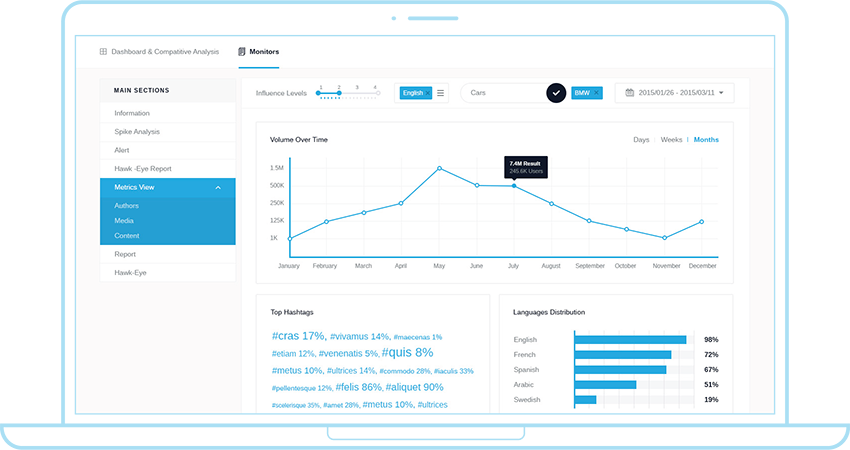 Automated alerts to keep your team ahead of key events affecting your business interests.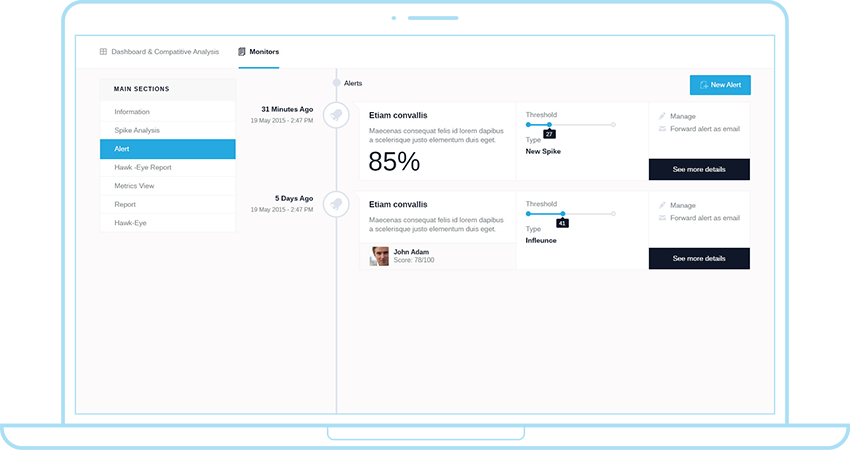 Fully automated reports delivered to your inbox customized based on the metrics you care about & filters you set.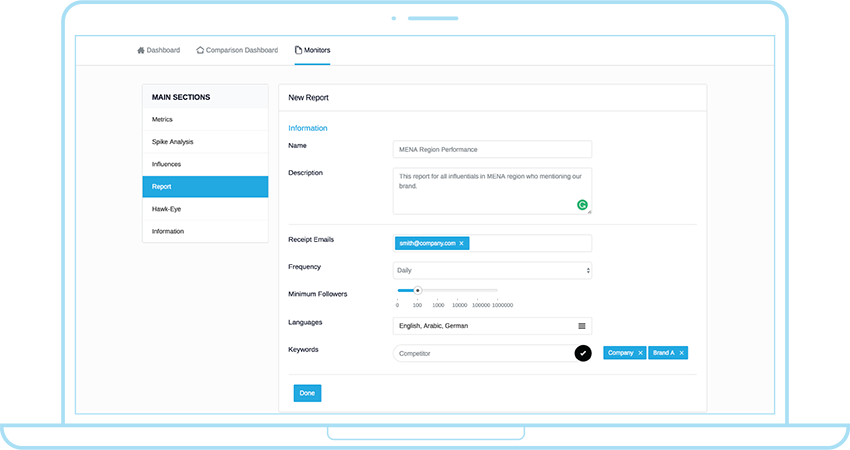 Compare your performance against your competitors never been easier. Choose what metrics you are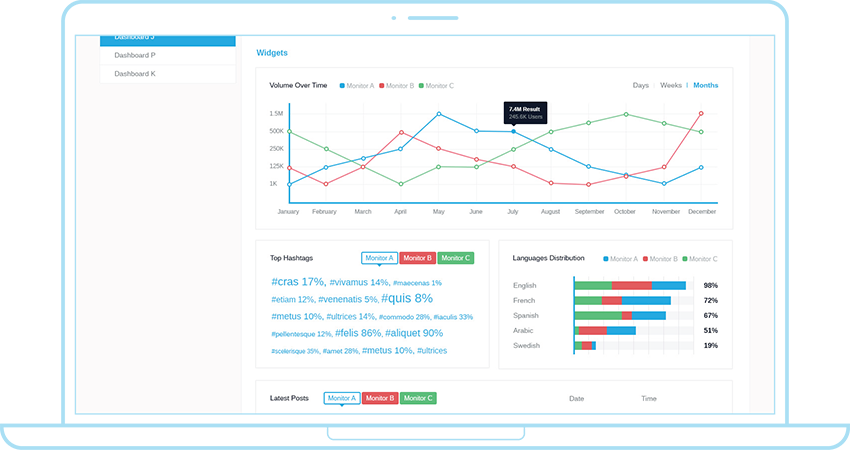 Create your own custom dashboard that shows only the metrics you care about from various number of monitors. Oh, did we say you can setup unlimited number of dashboards ?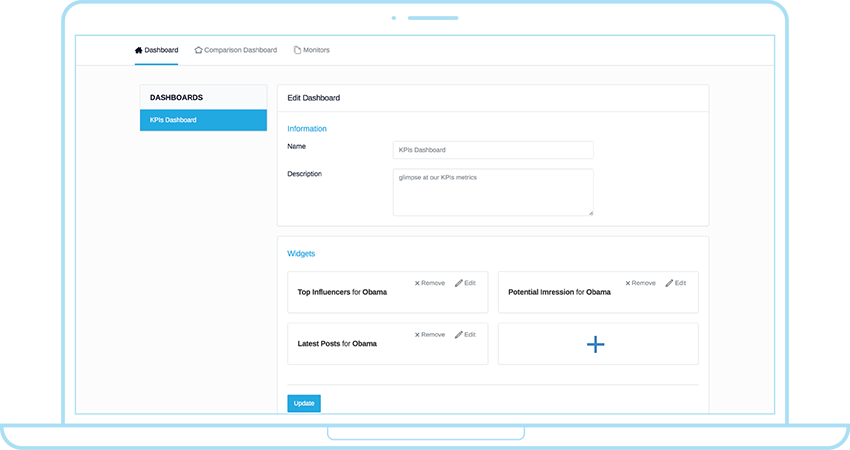 Where and how to use LUCIDYA
LUCIDYA is so intuitive that all
of your teams can benefit from
Market Research
Use social as a real-time, global focus group to better understand markets and product use cases, and analyze competitive offerings. You can even filter results geographically—down to city level. Analyze influential users, sites and content to understand consumer feedback and build targeted outreach.
Competitor Analysis & Benchmarking
Things can be difficult to understand without context. This statement is particularly true when looking at data relating to your brand – without an in-depth understanding of the industry and competitors, it will be hard to determine where you place and what you need to do to succeed. By using LUCIDYA's dedicated Competitive Analysis dashboards, you can monitor competitors and benchmark your performance against them. You can analyze your competitors' marketing techniques and highlight any potential failings in their own approach.
Brand Monitoring
Monitoring your brand in social is not an option today. Take it a step further and turn social conversations into actionable insights. Listen to what people are saying about your brand, your products and your competition and stay a step ahead of the social web. Conversations about your brand happen day and night, and when bad news happens it can spread quickly. You need to be among the first to know when the conversation turn negative
Campaign Measurement
Analyze and benchmark your campaigns to see which are bringing the most ROI and what locations they more affected.
Crisis Management
"It takes 20 years to build a reputation and five minutes to ruin it. If you think about that, you'll do things differently." – Warren Buffett
Warren Buffett said it best: reputations are extremely fragile, and they can be torn down in a matter of minutes. Your organization's reputation is no exception.
A crisis will happen at some point. There's no avoiding it. But with a careful social listening tool like LUCIDYA that equipped with real-time alerting system you will be able to contain the crisis at its very start before growing and spreading. 
Customer Service
Proactively listen for people needing help or expressing dissatisfaction with your product, service, or brand, so you can react quickly and effectively, before negative sentiment spreads. Evaluate the effectiveness of your support-related content, support process, and uncover and quantify problems.
Product Development
Learn what resonates with product users and early adopters to find new product development and improvement opportunities. Identify and quantify issues, track the success of new launches, and collect specific product feedback.
How LUCIDYA applies to your industry ?
Lucidya can be used in many various industries. Let's see how
Start making smarter decisions with Lucidya