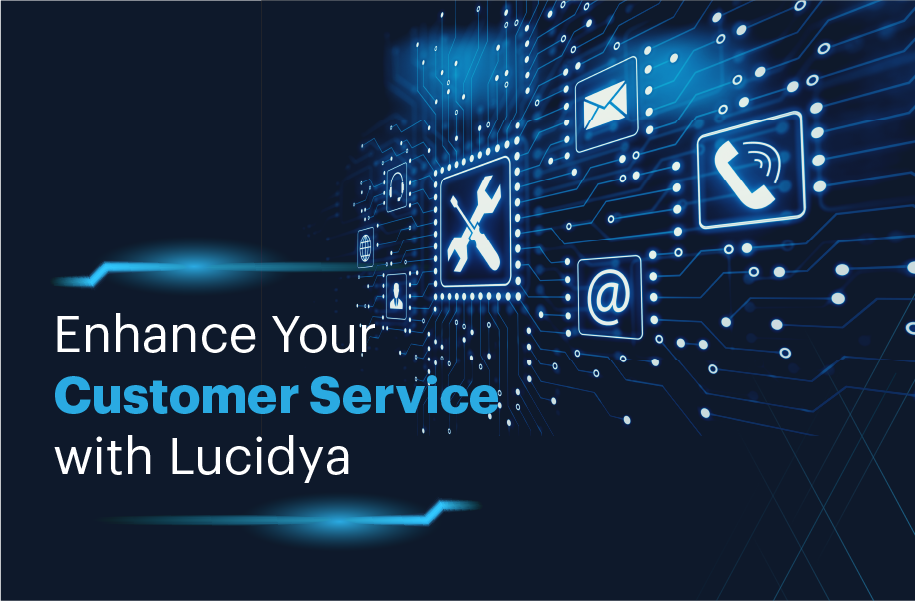 5 min read
Build Customer Relationships: Lucidya's CXM Suite
How to Build Customer Relationships? The answer to the said question is to make improvements in customer care. It does not mean that you can build a strong connection with your customers by having excellent products and efficient staff. How you communicate with your customers and how quickly you respond to their requests. They will always remember your company's behavior with them. 
And a common fact in building a strong relationship with your customers is the team you have in your customer care department. The customer will always respond the way your team responds to them. A company with a strong background can easily build a strong relationship with its customers, like if it belongs to some popular personality. But if you want to be smart without any influence, you have to communicate with your customers politely and carefully. And for this purpose, you need to develop your customer service team, which can communicate with them on behalf of the company. With a team having less knowledge of the domain and inexperienced persons, your relationship with the customers might fade away.  
If you are looking for a platform that can help you make a solid connection with your customers, then lucidya can be a great choice. Lucidya is an Arabic-based company that mostly works for Arabic brands to listen to the customers on each side of the brand. It captures the consumers' sentiments on all digital media accounts of the company. It makes you aware of all the things happening with your company and
what is happening around you. Lucidya's CXM suite is the most intelligent tool in this context. 
This article will first discuss the difference between customer services vs. CXM and then proceed to the benefits of CXM and how it can be helpful for the customer service team of any company. However, the article wanders around the services and features of lucidya. So let's get into it without further ado. 
Customer Service vs. CXM
As it is the age of digital media and the companies have to be connected with their customers, there is a difference between just making a connection and giving them a priority. Customer service means providing services to your customers about your offering when desired. It needs a team with the required knowledge to provide services to the customers. It involves the human element. 
Customer Experience Management (CXM) is a broader journey of the customers with your company. It records all the interactions of a particular customer with your brand from start to end. Customers' experience includes customer service, technology, and design. 
Customer service and customer experience are important for any organization, but customers consider the whole picture when searching for your offerings in this digital age. So you have to make it solid, and here come lucidya which helps you do so. 
How CXM Makes Tasks Easier for the Team? 
The teams are very important in delivering the right services to the customers. These people know deeply about the brand and can deliver the brand's message in the most relevant tone, which can be proved productive. But a team is not successful without the right tools of analytics, data gathering, communication, and many more. There are many analytical tools available in the market that most big companies are using and getting success. But what if you get all the essential tools in one package? It is because you have to be within your budget while doing business. 
CX suite of Lucidya is the most beneficial tool which helps to grow your CX of different products at one location. It listens to all the customers talking about the brand no matter where they communicate with your brand. Lucidya has made it easy for the team to make a strong relationship with your brand. The teams did not have to struggle as they needed to do in the customer service only. It provides various features which make your ability to grow your business. 
CXM platform empowers the teams and trains these professionals to behave with the customers. And what to do even when a customer desires something down the line. Lucidya's CXM suite tells about the customers' desires and looks for when they are looking with some other brand or company. It monitors customers' activity on other brands and the issues they have faced in the past. So with the help of this knowledge, the teams can deliver the right products with great experience, not just satisfactory. 
CXM Offering Which Makes Customer Service Team Strong
Here are some of the key points of Lucidya's CXM suite, which enable the customer service teams to work efficiently and contribute to the company's success. 
Product USPs
USPs refers to Unique Selling Point. It is a service provided by online media marketing tools that makes the product different from its competitors. It will make your product design, brand, and performance distinct from other products. It is a key benefit of the marketing tools as you have to present something different. You might be thinking that you have to spend more on it to make it unique, but it is not true. It might be a thing with low price and extra functions or a product in various colors and designs. 
If you want to run a business smartly, you have to look at unique selling points. In this way, your customers can easily recognize you. But it fails to do so, and then they have to compete with the opponents only based on the price, which means you might need to offer your product at a relatively lower price than other competitors. It might result in loss most of the time. 
Lucidya's CXM also allows the teams to define product USPs to make them look different from similar products. In this way, the teams can work closer to the customers' interests and keep an eye on the competitors. 
Social Listening 
Lucidya is considered the most optimized solution to listen to the customers visiting all the company's sites. The teams do not need to collect data individually. Lucidya's social listening tool will record a specific customer's data from all channels and prepare a report. It will listen to the conversation of all public posts. In this way, the time of the customer service teams is not wasted in collecting data, but they can concentrate on improving their products and services. 
In-depth Analysis 
Another merit of CXM that is a bonus for the customer service team is the deep analysis of CXM on different social media channels. If these are all handled by humans, the companies might need to hire more staff to handle all channels. But lucidya facilitates the integration of various channels at one point and generates a useful report that the social media team can use to make changes according to the customers' requirements. 
Latest Technology 
As the world of technology evolves day by day, doing business is also evolving. The companies need people who can move with the change. Lucidya's CXM provides AI integrated tools which make tasks easier for the teams to make decisions quickly. 
Advanced Arabic Text Analysis 
Another benefit of Lucidya's CXM is that it makes it easy for the teams to work closely with clients no matter what dialects they use for communicating with your brand. It collects the customers' data in the language they communicate and then translates it into the language that your team requires. In this way, the companies do not need to waste time translating the text. And not only this, but it will also make it easy for your team to deliver the message in the dialect of the targeted audience. When the customers get the message in their native language, they will respond more quickly, which leads to the success of your brand. It will also make it easy to improve the offerings according to the customers' desires. 
Conclusion 
Customer is the most prior element while doing business. These are the ones that can help to grow your business as well as they can make it down. So a company has to communicate with their customers to know what they want and make it possible to deliver the products according to their requirements. To know every consent of the customers, a company needs to build a customer service team that can communicate with them to feel how important they are for the company. If a company does not have the right team with relevant tools, it might fail to grow its business. 
A customer service team needs specific knowledge and tools to deal with the customers and make the company able to generate the most demanded products. This article has elaborated on the benefit of Lucidya's Customer Experience suite, which is a great gift for the team, which is the face of your company on the side of customers. 
A struggling company should surely give Lucidya a chance. Then it will provide in-depth monitoring and keep you aware of what your competitors are doing to engage their customers. It has discussed various benefits of the suite that raises the significance of the analytics while encouraging your customers on all social media channels. Furthermore, it is a great assistance for customer services teams of all businesses. 
To learn more go here. 
Follow us on social media