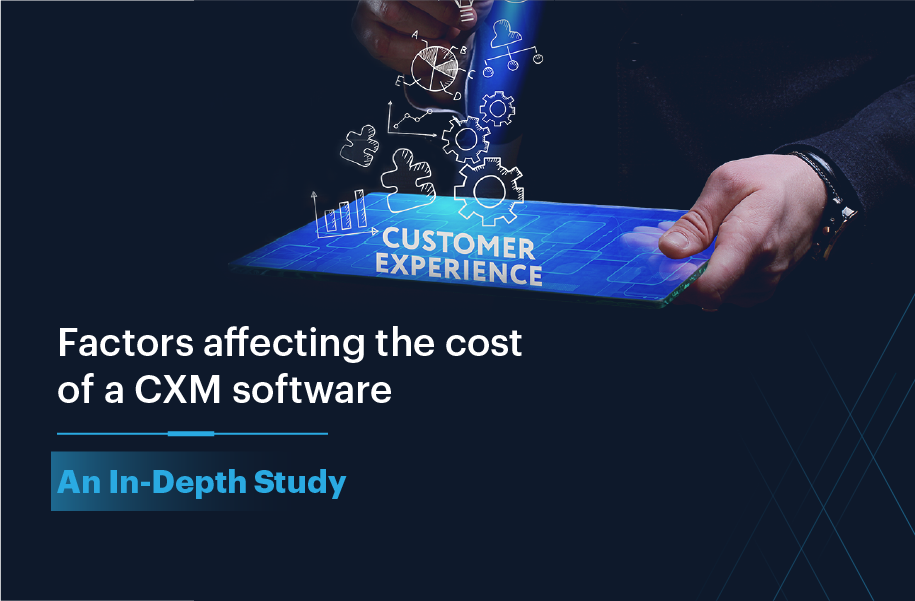 5 min read
Factors Determining the Cost of CXM Software
Customers are an asset to any organization. They always go with the brand or company, which gives them more priority and fulfill their requirements. Organizations are looking for ways to engage their potential buyers in today's business world. Due to rapid technological advancement, different platforms offer a solution to retain potential customers and target new audiences. One of the most common solutions is Customer Experience Management (CXM) Software.
CXM is an application that enables brands to keep track of their customers. It makes it possible to answer the customers' queries 24/7. The users can ask a question, give their feedback on it. It will record all the information, and then the organizations will use this data to improve customer satisfaction. This software manages the experience of the customers about your brand. It makes you aware of them, of their every single movement and touchpoint on your brand at every social media channel.
Customer satisfaction is necessary to keep your customers loyal to your brand. This can help predict the future of your upcoming product in the market. No matter what kind of business you are running, you must have a solution that can help satisfy your customers. If you are in need of such solutions, then customer experience management (CXM) is a great option for you.
You might be confused about buying a CXM solution because of its price structure. Different types of CXM offer different pricing structures that vary from business to business. If you are running a small business, you do not have to pay a high amount on CXM software as the big brands do. Different factors determine the price of CXM software. This blog will tell you about the factors that help determine the cost of customer experience management software. So let's get started.
Factors Determining Cost of CXM Software
CXM is an online platform that helps manage customer interaction with a specific brand and know their preferences. If you are looking for the cost of customer experience management software, you have to know about different factors that determine CXM software's cost. You can subscribe to a free, standard business and enterprise plan according to your business needs. The following factors determine CXM cost.
Number of Users
Most software vendors offer CXM solutions based on the number of users on your brand as the number of users will increase, so the price of CXM might increase. Most software vendors offer customized plans to make your plan, pick the tools you need to meet business needs, and evaluate the cost. Furthermore, you can make a monthly or yearly package you need to pay after a set duration. Always look for a platform about their support to several users. This can help you decide which platform is right for you and have an idea about suitable packages.
Number of Customer Segments
Customer experience management software also facilitates businesses by tracking their potential customers and making segments based on the interests of their customers. This tool is of significant importance as it only makes you advertise your product to the customers interested in it. It takes you away from excessive advertising. So always check before adopting a platform what segments it offers and whether it is enough to fulfill your brands' needs. The software vendors that offer more user segments also demand a high subscription fee, so you must evaluate whether it matches your budget.
Number of TouchPoints CXM Tracks
It is a great factor to decide the price of customer experience management software. As you know, these software solutions provide an online platform that tracks the movements and feedback of the customers of a particular brand. Most of the vendors claim that they record the single movement or click of the customer on your brand. But the thing is that you should check how many times it can track the touchpoints of a single customer. Is there any limit? Or do different packages support different touchpoints? So if you want the best solution, it is better first to take a trial or go through all the functionalities of the software to understand how it works and what you need to pay for tracking each touchpoint of your potential and new customers on your brand.
Setup Fee
Most of the CXM software also demands setup fees that help you make it run successfully for your brand. It installs all the essentials of your brand in this application. It also keeps it updated about all your social media channels. So if you are running a bigger brand, you will have more info to load on this platform which will require a higher fee. In this way, the price of the CXM will surely be high, but if you are running a small or medium-sized business, you can do it by paying a smaller fee.
Training Fee
Software vendors also train the consumers to use the software efficiently and get more out of it. But they also offer this training by asking for a training fee. So if you want to train your employees, you have to pay, which increases the total cost of your subscription plan.
Channel Deployment
As you know, this is the age of social media, and people are running their businesses using different social media channels. That is why they require a solution that can help them gather the data of all channels in one place and then predict meaningful insight from it. The number of channels CXM can support also decides the cost of the software. If you use more accounts, you have to pay more to track customer interaction on each channel.
Dashboards and Reporting Type
Different CXM software offer different report analytic tools and dashboards to use. The vendors who offer distinct dashboards for each department of a brand can demand more cost than those which offer a single dashboard for the whole organization. Select the one that can work side by side with your brand's requirements.
Supports and Features
As the services and integrations of a specific CXM solution increase, the price increases. Take a look at the features and services of each plan of your selected software, and then decide which one is suitable to meet your brands' objectives.
Choose a scalable, customizable, and budget-friendly plan that helps you fulfill your business requirements.
CXM Software Subscription Plans
Most of the social media marketing software comes in different plans. Read about the different types of plans below.
Free Plan
The free version of CXM software is like a demo that you can use for a few days to determine if it is right for your brand or not. Although you select software according to your requirements, you can still test software by practically deploying it for the sake of your brand. You can request a demo that requires no payments, and many of the platforms also offer some distinct features freely throughout the lifetime of the software. But most of them only provide a demo for a few days, which requires a subscription when the trial ends. The trial period helps to learn how it impacts your brand, and you can choose whether it is the right platform for you or you need to try something else. We recommend taking a demo before you buy a plan.
Standard Plan
Standard subscription of CXM solution requires you to pay some amount monthly or annually in which you get enhanced features that are not provided in the free version or demo. The software consumers must first check the features they get after a standard subscription to know if they are enough for their brand or need enhanced customer experience management to make their customers loyal. The price of the standard subscription plan varies by different software vendors. So you have to first select special software then check the cost of their different plans.
Business Plan
The business plan comprises monthly and annual subscriptions of software. The services included in the business plan require higher fees. The users get more features and customer support in this plan. It comes with additional tools that a customer might not get in the standard plan. Most businesses use this plan to meet their business needs. However, you can use it according to your plans.
Enterprise Plan
This plan includes all the features of a CXM solution. The brands which subscribe to this solution can get more customers interested in their brand. It includes innovative tools to capture the attention of potential customers and target new customers. The price depends on the service provider. However, you can choose a monthly or annual plan to retain loyalty.
What plan you want to choose for your business is up to you, which varies in cost by vendors and features.
Why Choose Lucidya?
Lucidya is an Arabic customer-building online platform that uses artificial intelligence to gather the customers' attention by analyzing their feedback and experiences. It focuses on Arabic content, so if you are running an Arabic brand, then it can be a great choice for you. When it comes to pricing, Lucidya offers price details when you give quotations about your brand. It is a customizable business solution which means you can select the features you need, and then it evaluates the cost. Lucidya gives high value to the money, which means you should not think you are wasting your amount. The features and customer support by Lucidya make it a worthy platform among different competitors.
In today's world, even small businesses compete with bigger brands due to their excellence in customer experience management. The best decision you can make for your business is to adopt a solution as soon as possible to stand with your competitors and be a part of the race to the top.
Follow us on social media