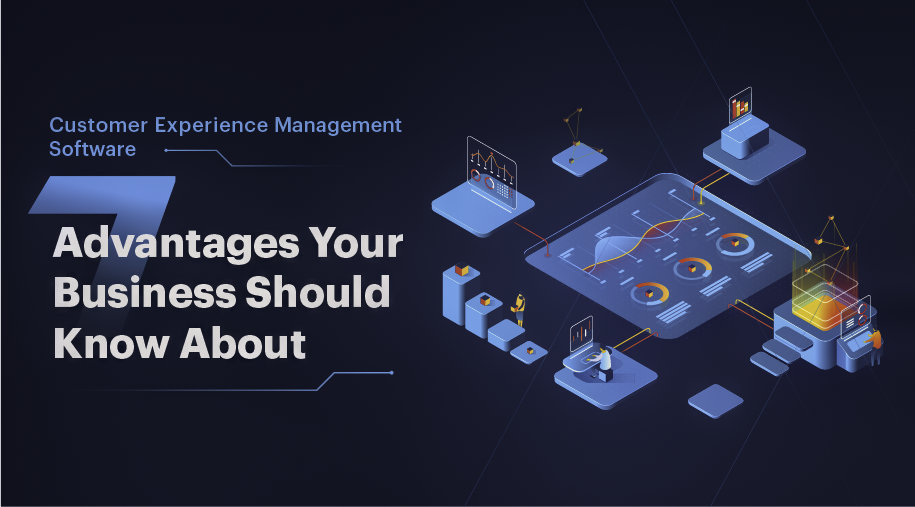 5 min read
Lucidya's CXM Solution: Advantages of Customer Experience Management Software
Advantages of Customer Experience Management Software CXM Solution
Businesses are always in search of ways to improve their businesses. The time and budget are often limited, so the business stakeholders have to decide which area requires more attention and where they should invest. In this way, they decide by analyzing all the business areas to ensure that the area they choose to invest in; will surely give them higher returns.
The best area that most managers or business stakeholders choose to invest in is customer experience. It is because the customers are the real asset of the brand. These are the customers that help you to recognize your brand worldwide. When you give them attention, engage in interesting activities, fulfill their expectations, provide high-quality products and great customer care services, they become loyal to your brand.
With the advancement in technology, dealing with customers has also changed. Customer Experience Management (CXM) software is becoming very popular among organizations to predict the future of a specific product and take the customers' preferences. In this blog, we will tell you about the CXM software provided by Lucidya and how this tool can help you improve your brand. It is a platform that most Arabic brands use to retain their customers for a long time.
This blog will discuss some of the key advantages of software experience management software. If you are running a brand, company, or product, you should surely read these potential advantages to keep your customers with you for the lifetime of your brand. It will tell how Lucidya helped us make customers closer to the brand. It has also made it possible to distinguish your brand from other competitors making the same product. Let's go to our main topic without further ado.
What Is Customer Experience Management Software?
Customer Experience Management is a software tool that monitors customers' conversations to know what they want from your brand. It monitors even a single movement of the customer, like a click or touch. It considers all social media accounts and sees the customer's behavior towards your brand? It also ensures to deliver the right products to customers at the right time. Lucidya provides in-depth monitoring tools which help to make improvements in the brand. There are different other tools that Lucidya offers in this great software like it analyzes which influencer can be most suitable to enhance your brand. However, it comes with multiple advantages that are discussed below.
Advantages of Customer Experience Management Software
CXM provides several advantages that encourage businesses to invest in the areas that will return high. It also makes you able to understand the features of their product and what makes their product different from other competitors. It ensures customer engagement that is necessary to retain customers. Lucidya is a powerful tool with great AI capabilities that leverage the following advantages.
Analyze Customer's Feedback
The topmost advantage of CXM is that it enables businesses to analyze customer feedback. It collects all the customer's interactions, asks questions to know their preference, gathers the data of all social media platforms, and analyzes it to understand your brand in customers' minds. It helps the businesses know how their customer care teams are helping customers and providing the products and services they want. The analysis is very important in retaining customers loyal to your brand. It helps to fill the gap between the brand and the customers.
Whenever a consumer message on your brand's post on any social media platform and directly notify your website, CXM monitors and collects all the data; after collecting data, it analyzes are your customers satisfied with your brand. It generates figures of satisfaction that can give you a point from where you can start making your customer happy with your brand, and you can take actions to improve the things that your customer does not like. It works on social media platforms' data and can also work on the manual advertisement reports, and then it declares what actions are needed to recover from crises.
Provide Customer Experience Insight
CXM gathers all the feedback of customers and then analyzes it to give market insight. It collects all the customers' questions and issues they face in your brand. This insight makes the companies adopt the proper steps to satisfy customers by addressing their questions and issues. When you have happy customers, they will visit your brand repeatedly and recommend it to their family and friends, which means it is necessary to keep your customer satisfied. CXM analysis the data after collecting it from all the sources and then tell what action you should take to grow your brand.
In this way, you can tell your customer care team to reinforce loyalty and satisfaction because customer satisfaction is the most crucial area when making your business return high. So it is good to invest in this area if you have money and a budget. It will help you give more insights, and you will have an idea of which products you should launch in the market according to buyers' expectations.
Uses Latest Technologies like AI and Machine Learning
With the advancement in technology, people have to make their businesses smart. They have to run businesses using the latest technologies that prove their worth in every field of life. Artificial intelligence and machine learning are two core technologies for every business to work effectively. CXM uses these technologies to introduce key businesses areas and processes. CXM uses the power of artificial intelligence, business intelligence, and machine learning which help to gather and analyze a large amount of data that can be personalized content of customers or organizations.
CXM also determines the customers' behavior, intent, and expectations with these technologies. It then helps create business plans and strategies to provide relevant experiences to customers that make them happy. So how can you deny the importance of advanced techniques in your business? If you are using CXM by Lucidya, your brand will be closer to these technologies and will provide a quick analysis of all your customers.
Real-Time Interaction with Customers
Now with the advancement of technologies, the customers are also becoming modern and more digital, and they also demand modern digital solutions to their problems. Now the CXM is going modern and has started using the latest tools like cloud hosting that can afford to perform real-time operations and access data of your customers anywhere without the restriction of day and night. It ensures to address the customers' issues and resolve them in real-time.
When running a business manually and the human monitors, it can take some time to respond to customers and address their problems. Still, CXM's latest tools help make your brand available 24/7 and respond to them in real-time to provide the services they want. There is no hassle when you try to engage your customers with CXM. When customers get instant benefits, they will like your brand and prefer to use it even when your competitors offer the same thing at a lower price. It is just because you have won the trust of your customers by delivering the right products with excellent quality. It enriches the customer experience to increase the worth of your brand.
Enhance Customer Conversions
Your existing customers are more beneficial for your brand because there is more possibility that they will buy your product than a new customer. CXM provides benefits by creating a life cycle of feedback and product offerings. You are undoubtedly doing business to earn revenues, but your priority should be your potential customers. CXM uses a different platform to let your customers know about your brand and always keep them engaged in your activities to feel close to your brand.
Identify Influencers to Improve Brand Growth
One of the key advantages of Lucidya is that it not only analyzes your customer behavior and feedback but also considers their favorites, like from whom they impress more. It collects data from the customers' social media accounts, like the pages they like often. Most people like a brand because their favorite actor, cricketer, or other popular personality is advertising your brand. You might question your customers about their likings, conduct a survey or identify what influences them.
This technique will gather the attention of your existing customers and help to grasp the attention of new customers. In this way, your brand will grow more which will undoubtedly lead to higher revenues. Lucidya offers great influencer analysis software, so you should use this software to take your business to a higher level of popularity.
Helps To Predict the Future of a Product
CXM by Lucidya not only monitors the movement of your customers on your current products in the market. It is also helpful for you to know the customers' behavior towards your next product you will launch shortly. You can tell your target audiences about the features of your next product. Their feedback on your posts on every social media channel will determine how this product will move in the market.
Suppose there are negative equity and the customer's demand for improvement. In that case, you can use these suggestions and recommendations to improve the quality of the product and make sure that your product has high demand when it comes to the market.
Hopefully, the advantages that Lucidya leverage in the customer experience management software are the best to beat your competitors in terms of quality, performance, and customer care.
Follow us on social media