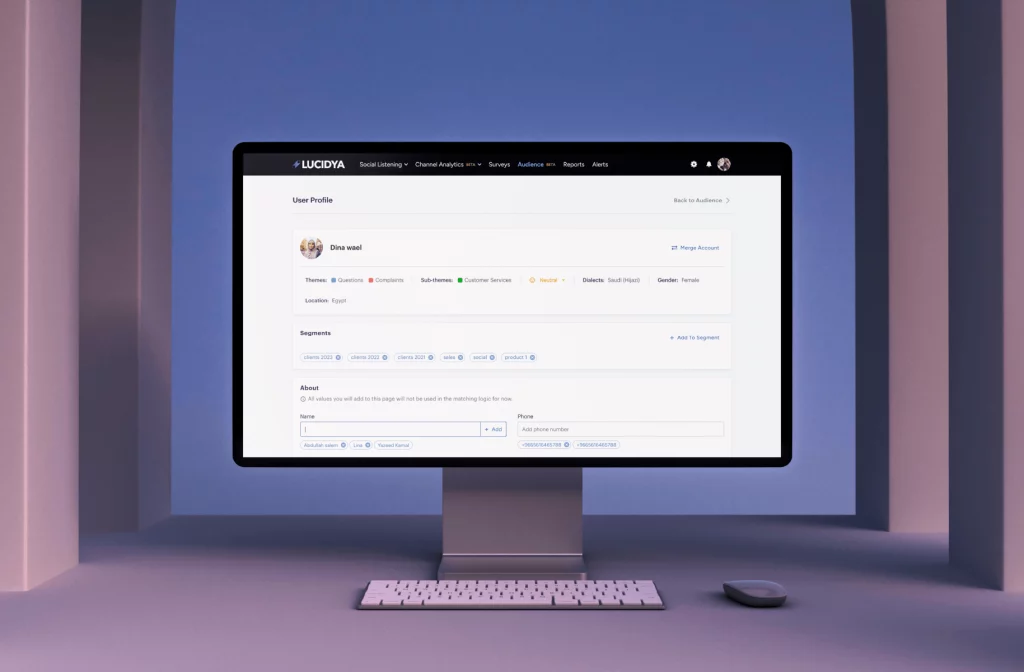 3 min read
Everything you need to know about our Audience product
From individual consumers to big business accounts, customers demand relevant and  personalized engagements.
Lucidya's audience product is actually a tool that creates customer data profiles. Customer data profiles are basically dashboards or platforms that contain key data about customers and their interactions with a business.
Our Audience product is a centralized data store for all of the customer data brands generate in their data bases during business process. Your data is available and queryable in a single data store, rather than having it spread across different databases with different table structures and data formats.
Unlike data warehouses and data lakes, our product goes further than just storing customer data – it's a unified platform for data collection, storage, and analysis. It goes as far as building unique individual customer profiles from multiple connected data sources.
Our audience product is integrated with our Channel Analytics or Survey.   products to collect and place all the customer information in one platform allowing businesses to create customer or audience profiles which can help them identify customer pain points, purchasing behaviors or demographic data which can help in targeting similar customers and help in marketing campaigns with many additional benefits and features. 
Key Features
Collects, Analyzes, and Unifies user data by building profiles for each engagement on the clients channels managed by Lucidya's Channel Analytics or/and responses on Lucidya Surveys.
User Profiles once built will keep on unifying user interaction every time they contact the client's channels. 
Helps our clients to store responses of all their engagements with customers over time, and compare their behaviors. 
User Profiles show an overall view (engagements) of engagers based on all their interactions, which gives our clients the ability to proactively understand an individual customer. 
It has the ability to filter and create segments of profiles based on different criteria such as sentiment, gender, location this allows our clients to group and differentiate between different types of engagers.
It Imports your entire customer database from your existing CRM allowing you to export enriched customer profiles to any of your marketing tools. 
By capturing data from multiple sources and sending it to our products, interactions will be associated with specific users to help identify what each individual customer is saying about your brand, and give insight into what in your service is encouraging this valuable interaction. Tailored experiences can be provided to your users based on the profiles our product will build on them. 
It will allow you to identify both trends in your user cohort and the habits and actions of individual users. In conjunction with mobile data attribution, it is a a powerful tool for building an accurate profile of your customers and figuring out exactly what they want – so that you can adjust your products and services accordingly.
Follow us on social media