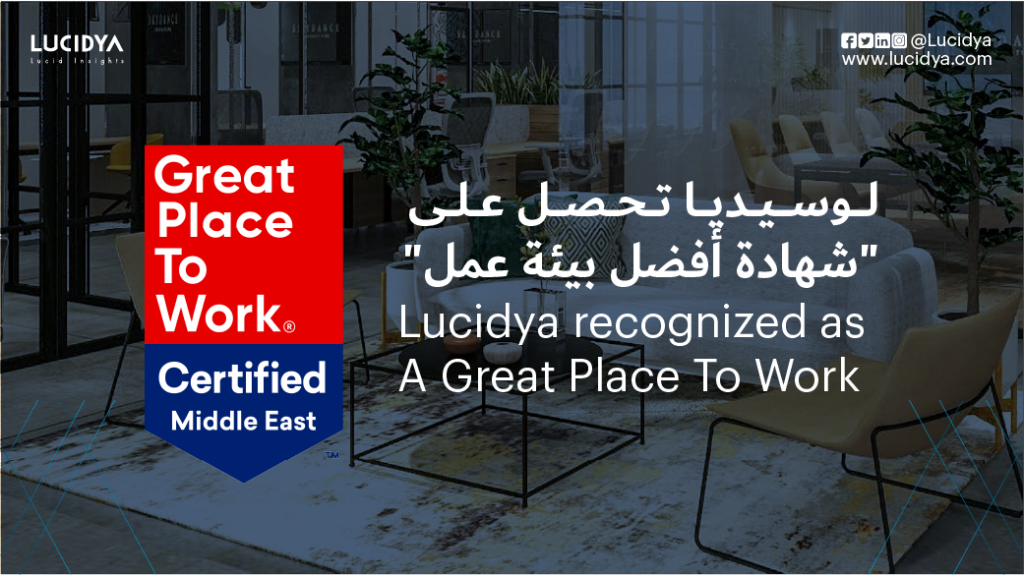 1 min read
Lucidya Recognized As A Great Place To Work® In The Middle East
Lucidya, the leading customer experience and management platform geared towards the Arab world, is ecstatic to announce that it has been accredited as a great place to work. Great Place To Work® has certified Lucidya for their amazing work environment, and for making employee satisfaction a top priority. 
The Great Place To Work® is a research, management consulting, and training organization located in more than 60 countries. They specialize in corporate culture and identify leading companies around the world. They assess businesses on the effort placed in creating a great and positive work environment and rank them on holistic criteria of best practices. Great Place to Work® helps build high trust and high-performing workplace cultures.
Abdullah Asiri, CEO at Lucidya, remarked, "I am proud of the culture we have created at Lucidya. This award is not just a label but also a testament to the inclusive work environment we have built together as a team. It reflects the principles we believe in and our unwavering commitment to providing a fair and inspiring workplace." 
Abdullah Asiri and partners founded Lucidya in 2016, and it quickly grew from a social listening tool to a Customer Experience Management platform. In the six years since its launch, not only did the technology grow into something bigger and better but the number of employees also quintupled. Surviving and excelling through the two years of COVID-19 lockdown Lucidya is proud to have never wavered in its belief that employee wellbeing comes first and foremost. 
Lucidya is proud of the employee culture it has built, always aiming to provide an exceptional employee experience without believing in hierarchical segregation and holding employee wellbeing to the highest standards. Lucidya values its employees and is committed to advancing their growth by providing them with various opportunities to learn from different training programs and mentoring them on the job. 
"The Great Place To Work achievement showcases the trust and camaraderie between our employees. Trust, equality, and growth are the cornerstones of our workplace, enhancing the wellbeing of all the employees", said Hisham Saab, Vice President of People and Culture, Lucidya. " We make sure all employees feel a sense of belonging at Lucidya which ensures that they come in everyday excited to do bigger and better things." 
Lucidya will continue to put its people at the heart of the company ensuring each and every employee at the company is growing and reaching their potential. The Great Place To Work® accreditation has given us huge confidence that we are on the right track to take this company to even greater heights, hand in hand with our amazing group of employees.
Follow us on social media