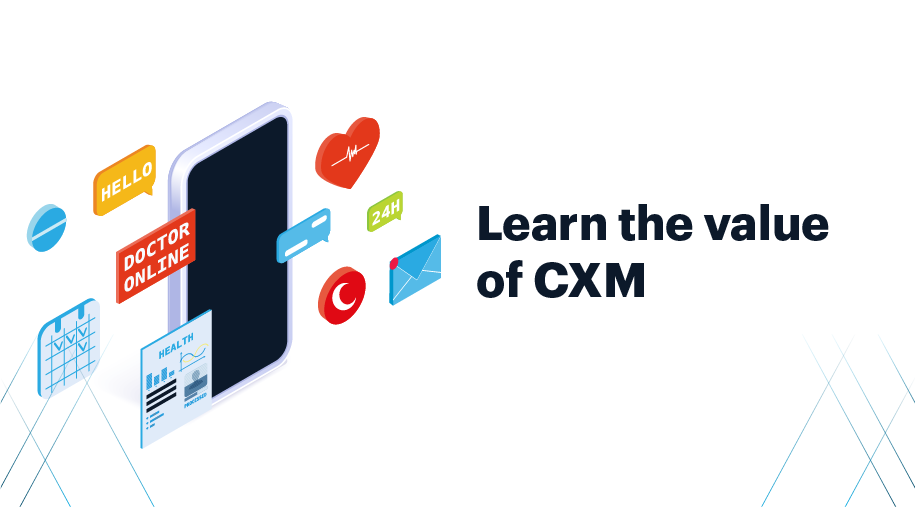 Improving Healthcare Customer Experience: The Power of CXM in the Digital Age
Healthcare is one of the most important customer centric industries. Good customer service in healthcare companies is considered good quality of care. The key to providing amazing customer experience to patients is by not treating patients as customers whose sole purpose is to generate revenue. The healthcare industry unfortunately has one of the worst reputations when it comes to customer experience. 
Great customer service in any industry begins by taking a customer-centric perspective. Healthcare industry needs to view their patients as people your company is meant to help. Times are changing and it's becoming easier to improve patient experience. 
The advent of digital innovations like Artificial Intelligence (AI), and Machine Learning (ML) has provided the healthcare industry with better opportunities to improve their customer experience. 
Why customer service is important for healthcare companies
Below are a number of reasons as to why customer service is one of the most important aspects of the healthcare industry and how it's important for the healthcare industry. 
Get recognized for outstanding healthcare: 
Healthcare companies should focus on developing good long-term relationships with patients rather than approaching each interaction as if it was a monetary transaction. The reputation any hospital develops for excellent or poor medical customer service is critical in influencing patient satisfaction and also determines if they go to the same facilities in the future.
Get repeat customers: 
Happy patients are most likely to come back to the same facilities for their healthcare needs every time they need to see a doctor/nurse. They are also very likely to recommend the same healthcare companies to family, friends and co-workers. 
Avoid costly mistakes
Collecting accurate patient data is necessary for the healthcare industry to provide diagnostic and treatment recommendations to patients. Errors in customer data can dramatically impact the quality of customer care – even lead to potential life-threatening mistakes and malpractice lawsuits. Customer service systems and processes are the first defense against costly mistakes.
Good customer service can only be provided when healthcare providers have a way to manage and record customer experience. Customer experience management is important for any industry if they want to provide the best customer service and improve customer loyalty to their brand. 
Customer Experience Management in Healthcare
Customer experience management in the healthcare industry involves understanding and anticipating the needs of your patients, and developing efficient and cost-effective solutions that meet these needs. The healthcare industry is divided into many different divisions from onboarding, administration, accounts and insurance, to primary, preventative, rehabilitative, diagnostic, emergency, hospital, long-term to home care – largely operating independently.
Historically patients using one or more of these services have ended up experiencing frustration and annoyance. However, the healthcare industry now recognizes the importance of putting customer experience first and foremost, this, combined with advances in technology are launching sector-wide shifts in terms of customer experience management. 
The importance of Customer Experience Management in Healthcare
Customer experience management in healthcare allows you to not just take better care of your customers but also improve your market standing. Listed below are a number of reasons why customer experience management is important in the healthcare industry. 
Through customer experience management you can: 
Identify problems that need improvement
Find out the gaps in the healthcare industry for different products and services
Reach out to old customers for reviews and referrals 
Ensure customer loyalty and stop customers from switching to alternative healthcare providers
Provide the right services through accurate data collection
Benefits of Lucidya customer experience management (CXM) in healthcare
Lucidya CXM utilizes the power of artificial intelligence, business intelligence, and machine learning to gather and analyze large amounts of data that includes personalized content of customers or organizations. Lucidya CXM platform can help determine customers' behavior, intent, and expectations and also help create business plans and strategies to provide good customer service to patients and help them recognize your brand for outstanding health care. 
Here are a number of advantages for using Lucidya CXM platform. 
Social Listening 
Lucidya CXM's social listening tool will record your patients data from all online channels and prepare a report providing all the required data. It will listen to the conversation of all public posts and keep a record of what your audience, patients or competitors are saying about you and your brand. This saves a lot of time which your customer service team would otherwise waste in collecting data. The same time now can now be spent on your patients wants and needs which very well might mean improving your products and services. 
Analyze Customer's Feedback
Lucidya CXM analyzes patient feedback, by collecting different data from online interactions, that is by gathering information from all social media platforms, and then analyzing it to understand what patients think of your services and your healthcare platform. The analysis is very important in retaining loyal customers as it allows to take down the wall between the service providers and the patients by learning about their wants and needs from a healthcare service. 
Provide Customer Experience Insight
Lucidya CXM collects insights from the data collected from different online platforms and through these insights healthcare providers can adopt the proper steps to satisfy their patients by addressing their questions and issues. Patients that leave your brand happy will always visit your facilities when they need such services again and recommend you to their family and friends. Lucidya CXM analyzes the data after collecting it from different sources and which then provides you with information on what action to take to grow your brand.
Real-Time Interaction with Customers
Lucidya CXM can get information in real-time and access your patient data from anywhere without the restriction of day and night. This ensures that patients' issues can be resolved in real-time. 
Conclusion 
With our CXM's latest tools help make your brand available 24/7, respond to your customers in real-time and provide the services they want. There is no hassle when you try to engage your customers through our CXM. By getting instant response and problem solving in real time, customers will prefer to use your services even if your competitors offer the same products and services. 
Follow us on social media