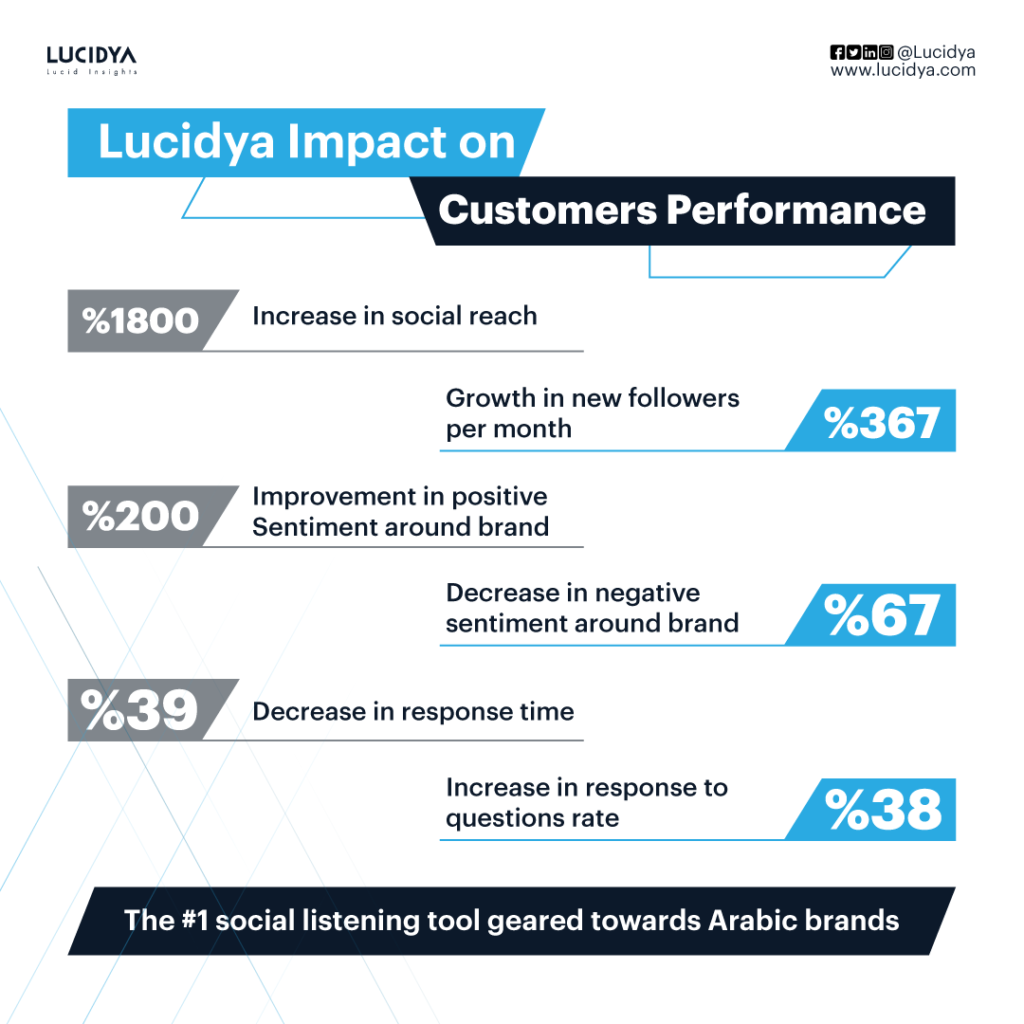 3 min read
Lucidya's Impact on Businesses: Quantifying the Results
LUCIDYA has become a cornerstone technology in many companies and that's because it has demonstrated its ability to improve many important KPIs while also reducing workload. But how much progress are we talking about here?
To answer this question, we decided to conduct an analysis to quantify the impact of Lucidya on our customers.
In our analysis, we performed a before-and-after comparison, comparing certain metrics before and after our customers used Lucidya. The numbers tell the story:x
200% Improvement in positive Sentiment around brand
67% decrease in negative sentiment around brand
39% decrease in response time to queries
38% increase in response rate to queries
1800% increase in social reach
367% growth in new followers per month
This significant improvement in those metrics benefit the company both financially and operationally. This is why Lucidya has over 100 customers from various countries, including the region's leading brands.
Let's dive deeper into these number and what do they mean
200% Improvement in positive Sentiment around brand
For example, if a company used to receive 300 positive mentions per month it increased to 900 after using Lucidya for few months
Why increasing positive sentiment is important for brands?
Increasing positive sentiment means that the company is improving their product/service or customer support. Managers care about increasing this metric to show the effectiveness of their work and to inspire other customers to try their product or service. One way Lucidya helped its clients to increase their positive mentions is by empowering them to know the exact needs of their customers so they can fulfill them faster.
67% decrease in negative sentiment around brand
For example, a company had a drop of negative mentions from 300 per month to 100 after using Lucidya.
Why you should care about decreasing negative?
Negative comments are contagious! The more there are today the more there will be tomorrow because it encourages other to speak up about their bad experiences. They also scare away new prospects from trying the services or products. This is why minimizing negative mention is very critical to any brand! In which Lucidya helps with by instantly alerting the brand on any negative mention to resolve the issue fast and turn a sad customer into a happy one.
39% decrease in response time
The company that used to respond to inquiries in 100 minutes started to respond in 60 minutes only!
Why decreasing response time is crucial?
Taking too long to answer customers' inquires doesn't only frustrates the customer but also increases the likelihood of a PR crisis if the inquiry was sensitive.
Taking too long to respond invites other competitors to enter the fray with offers or leaves room for interpretation, both of which can have an impact on your business. To provide a world-class customer experience and gain local customers, brands must stay on top of these metrics at all times.
38% increase in response to questions rate
A company used to neglect 50% of the received questions but after using Lucidya it decreased to just 30%.
To maximize customer satisfaction, it is critical for the company to respond to as many inquiries as possible (ideally all of them!)
Doing that, the company will be able to determine its pitfalls, improve them, and gain higher customer satisfaction along the way
1800% increase in social reach
If a company used to reach 50,000 people, it increased with Lucidya to 900,000!
Why important:
As reach increases, it naturally leads to increased awareness and eventually increased customers. For businesses, it's important to extend your reach to as many consumers as possible to grow the business.
367% growth in new followers per month
As an example, if a brand used to gain 20,000 new followers per month on average, it improved to 93,400 new followers per month
More Followers = More Customers = More sales!! Followers serve as Loyal and potential customers. So essentially, more followers mean more customers, and this increases your chances of conducting sales. Followers are the market that a business is on the lookout for to jumpstart their success.
As previously stated, Lucidya is critical in assisting businesses in improving their reputation, customer satisfaction, and reach. With Lucidya's cutting-edge Arabic engine for sentiment analysis, brands can easily monitor their mentions and comments. This necessitates paying closer attention to any comments or concerns that arise. Addressing these mentions, both positive and negative, demonstrates that businesses are paying attention to their customers, which leads to increased customer satisfaction and, ultimately, revenue.
Don't just take our word for it, try yourself and see the impact!
Follow us on social media