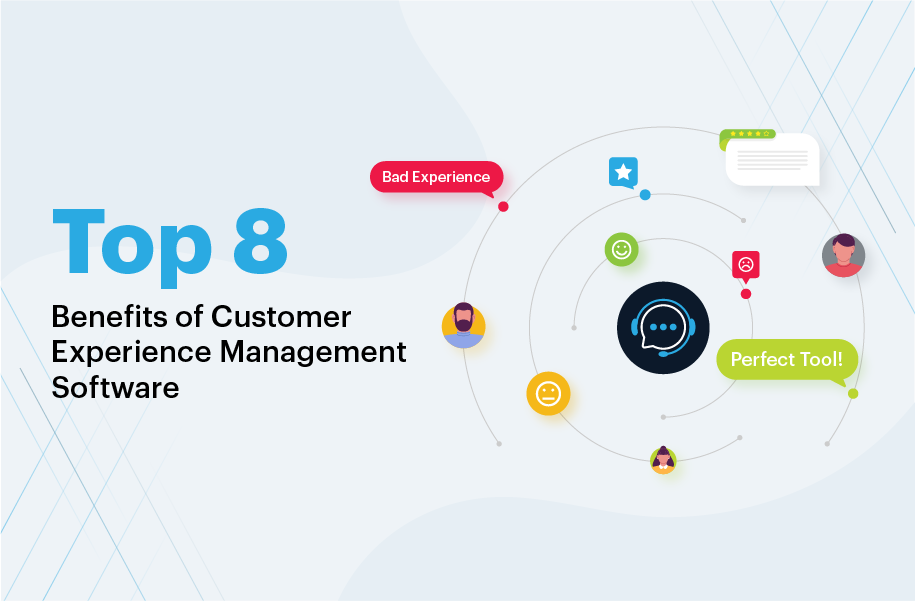 6 min read
Maximize CX with Customer Experience Management Software by Lucidya
Business stakeholders know that it can cost more than five times to gather new customers than holding your current customers. Still, they might not know that it is important for them to keep the positive customer experience from their buyers. Most sales and marketing professionals want to create such programs that can help target new markets and make as many new buyers and visitors on their site. In most business growth plans, the strategies to hold the current customers are often absent, which is alarming.
One thing that each company, brand, and business should not avoid is their current customers while targeting new visitors and buyers. Now is the age of SaaS computing and e-commerce; that is why it is important to give attention to your existing customers. Here comes customer experience management software in the picture, which provides different tools and features to increase the profits and loyalty of customers. Customer Experience Management Software (CEM) helps monitor their customer's visits, even the smallest movement, or click on any of the company's sites to know customer preference and make the right business decisions.
CEM concentrates on perceiving customer actions and identifying the customer's feelings while visiting the site of a particular brand. In this article, you will read about the benefits of customer experience
management software to get an idea of why you should choose this software to increase the popularity of your brand. So let's dive into the topic deeply.
Benefits of a Customer Experience Management Software
The professional often focuses on the investment using CEM software as there are higher chances of return with it. CEM has proved its worth in sales and marketing as it has improved sales and increased profitability. If you are running a brand, you have to follow some strategies and rules that can help you get your target audience and your existing customers closer to you.
You should not miss the potential benefits of the CEM software offered by Lucidya that help target the required audiences and make it possible to remain engaged with customers to make them feel how important they are for the company. It mainly focuses on Arabic brands to improve business engagement with customers. The tools of Lucidya are easier to use and guide the brands to collect customer sentiment and preferences. However, Lucidya offers the following benefits in CEM software, increasing its popularity.
High Customer Lifetime Value
One of CEM's most significant benefits is keeping track of a customer's money on a specific business, brand, product, or service from start to end. In this way, the business stakeholders can quickly identify how much money they should spend on retaining the existing customers and how much they should spend to obtain new audiences. And more significant merit of customer experience management is to ensure that the number of customers will surely increase.
Repeated business patterns predict the loyalty of the customers to the brand. CEM encourages companies to improve the quality of products due to the influence of multiple interactions of customers with the company. The companies also invest in customer services to make sure the customers are happy. The more and more the customers will spend on a brand, they can get more profits. The sales in existing customers increased up to 70%, but the sales in new customers are only up to 20%. 
Reduced Customer Churn 
A good customer experience management software gives lifetime value to its customer can also see reduced churn. It can be very beneficial because retaining existing customers can cost less than targeting new audiences and capturing their attention. So the company has to keep customers happy by using different sources to engage them all the time. In this way, these customers will stay longer with your brand.
To stay at the top in customers' minds, there are different techniques that you can adopt, like making frequent calls, sending email updates, organizing sales events, and appreciating customers. Lucidya offers excellent customer experience management software that helps your brand's reputation on top for your potential customers. So whenever there is time to create a new contract, your customers can make a quick and easy decision to buy your brand. Furthermore, this benefit is only possible if the CEM service representative is responsible for the customers. 
Increased Brand Equity
It is crucial to hold the top brand equity in the customers' eyes. It is a market term that identifies the value of your brand for customers. It works on the customers' emotions by giving them good quality products and quickly delivering messages, products, and services. Lucidya offers the brands to work closely to the customers' interests to make them feel that your services are on top for them.
CEM by Lucidya helps to empower positive brand equity by giving importance to your customers' expectations. In contrast, delivering products late, disappointing customer engagement, and general decline from a brand highly are the examples that can take your brand to build negative brand equity.
Positive brand equity means that customers like the brand. They feel happy to give positive feedback, recommend the brand to other people, and participate in loyalty programs. So to get positive reviews, you have to make sure that your services do not match your competitors. SEM helps you build positive brand equity by engaging customers so that your competitors cannot take away your customers. 
High Customer Satisfaction
Customer satisfaction means the customer is happy with your brand and services. The research has proved that the brand that constantly provides satisfying products and services to their consumers can easily get the customers' loyalty. It would help if you had an idea that the customers can easily leave your brand because it will not cost them when they leave, they could go to some other brand of your competitors, but the customers who are satisfied with the services are always ready to stay with your brand.
When you give royalty to your customers, they do not go anywhere, even if your competitors offer a similar product at a lower rate. They know that you always deliver the right and quality products. Lucidya's CEM makes you able to keep your potential customer happy by giving them the importance and responding to them as quickly as possible. It makes sure that the problems of the customers are resolved rapidly. So you can retain customers for a longer time with your brand. Satisfied customers mean happy customers that represent your brand will earn profit. 
Increase Consumer Engagement
When you give your customers what they want, they get satisfied, which means it will get back to your brand, like your products, as they know you are the one who provides excellent services along with high-quality products. Whenever you post a new update about your brand, they get back to it, like it, and show interest. It is all possible with the help of customer experience management software which makes sure that your customers always remember your brand by posting and reposting an update.
A more beneficial fact is that when you keep your happy and satisfied customers engaged, they will also influence their friends to come on your brand and like it. The Internet has made it easy to engage customers; you can arrange an online survey or event to tell your customers about the services and the launching of new products. When you share all the brand details with your customers, they feel satisfied and prefer to stay with your brand for long. 
Improve Crises Management
The businesses are also benefiting from CEM by predicting the future of the product they will launch. You can drive an online campaign and advertise your offerings on social media. The people's reaction will tell you whether your product will benefit you or not. If the visitors give negative reviews, you should improve the quality and fulfill the buyers' desires before the product is available in the market. In this way, you can prevent your brand from any future crises. 
Customers Act as Your Brand Ambassadors
When your potential customers to whom you respond quickly and provide services on a promised date can recommend your brand before their friends and family when they get the best experience from your brand consecutively, they start referring it to their family. The reports show that more than 80% of people trust their family recommendations. It means your brand is in the market with positive words that will grow more and earn profits. So when your customers are happy, they can become your brand ambassadors and easily justify your brand. 
Individual Customer Experiences
When you launch your brand, the price might be a factor that can gather more customers, but your potential customers know that you give value to money over time. That is why they do not care even if your competitors offer low prices. The quality gives them a different experience about your brand, and they prefer to come back to you more and more.
SEM has proved its worth in marketing by leveraging several benefits. It has helped the business engage customers to trust your brand and take it on top of their minds. SEM offered by Lucidya can be an excellent tool for these services
Follow us on social media