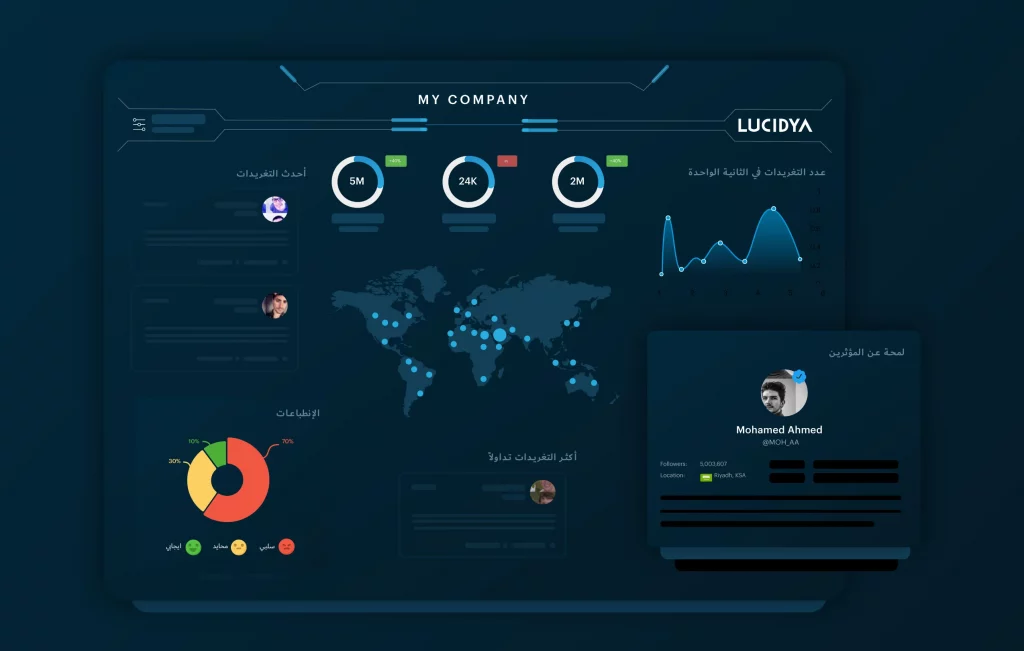 2 min read
Lucidya's Live COVID-19 Dashboard: Real-Time Updates, Trends, and Global Sentiment
The COVID-19 pandemic has taken a toll on global economies and the livelihood of millions. 
At Lucidya, we care about the community and are always looking for ways to give back to the people that supported us through thick and thin.
Today, we're releasing our live dashboard for COVID-19 news across the world. This real-time dashboard tracks the number of cases all over the world as well as relevant updates from social media and global news platforms.
You can access the live dashboard here.
We understand that keeping track of the latest news is important which is why we built this dashboard. You can see trending hashtags, top tweets from influencers, and understand the overall sentiment of the world on the virus.
Let's dive into what the dashboard offers in further detail.
Real-Time Case Updates
We pull data from various reputable and verifiable sources to provide real-time updates for confirmed cases. This will help citizens and also medical and research organizations to keep track of the virus' growth easily.
Online Engagement
Our dashboard includes live engagement statistics pulled from Twitter. All top tweets related to COVID-19 are shown in the dashboard so you can keep up with news and updates that are not yet covered by media outlets.
You can also click on the Influencers tab to only view updates from verified Twitter accounts. This includes prominent individuals, national leaders, news outlets, health organizations, and so on.
Our dashboard features tabs to check trending media (e.g. images, videos) and trending hashtags related to the virus. This is beneficial if you want to keep up with the latest developments for the virus, like a potential cure, for instance.
Global Stats and Sentiment
The tool allows users to see mentions based on where tweets are posted. You can check which countries are the most active and determine where the bulk of COVID-19 related mentions come from.
Another helpful feature of the dashboard is our sentiment analysis tab. This chart shows you how people all around the world are feeling at the moment about the virus. This is beneficial for governments looking to aid their citizens or traders that are assessing market sentiment to make informed decisions.
You can also filter results to refine your dashboard and access only the information you need. This allows you to track relevant information depending on what you want to know about the virus and its impact on the world.
Why We Built This
We want to give people a tool to keep track of the latest COVID-19 updates without them having to waste time searching for legitimate sources. With our live dashboard, you can stay in the loop and understand what's happening in the world today within seconds.
We also understand that many businesses are struggling to survive, with customers cutting costs and markets dropping daily with no end in sight. However, this doesn't mean you need to fire your employees or cut down marketing budgets.
With Lucidya, you can track relevant online conversations based on your target audiences. This allows you to uncover golden opportunities that most companies miss because they feel there's no value in the market. Your customers want you to meet their demand especially in uncertain times like this.
Now is the best time for your brand to put in work and rise to the top when everything is over. By monitoring the right keywords and conversations, you can target potential leads, nurture them, and acquire them as high-value customers when the virus is no longer a threat—and you can start doing that today with Lucidya.
Follow us on social media