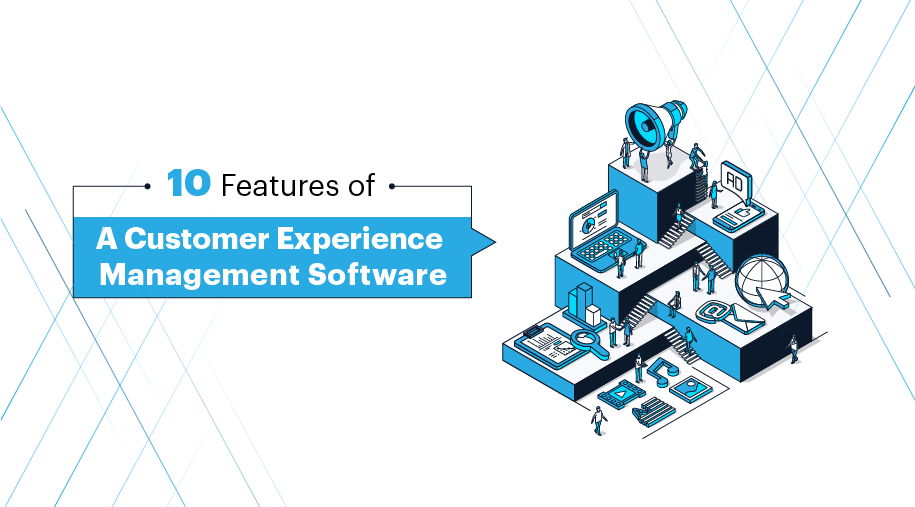 5 min read
Essential Features of CXM Software | Lucidya's CXM Solution
Features of Customer Experience Management Software
Customer Experience Management (CXM) is essential for every business in the 21st century. Customers prefer to buy from the brands which take care of their personalized experiences. CXM software can be a great help to manage the personalized experiences of the customers. It includes all the descriptions of your brand like logo, shipping policy, customer services, and many more. A brand recognizes by its customers' experiences. So you have to build positive equity to gain high profit and recognize your brand as the best.
The more prominent companies always value their customer and rationalization. The companies consider it a central point to make business profits. The Internet revolution has given more importance to the customers because customers make a brand popular by buying their products, liking their pages, staying engaged with their favorite brand, and recommending it to their friends and family. Reports show that more than 40% of organizations are giving importance to their customers. The competition is increasing day by day, and the best way to deal with this high competition is to make your customers happy.
Customer experience management allows the brands to understand the potential touch points of customers towards your brand. It is not easy for the customers to keep track of a single movement, so there is a need for software that can perform these tasks for your brand. Lucidya's customer experience management tool offers features that can make you able to understand your customer requirements and preferences.
All the CXM software holds some features that make it popular and different from others. This tutorial presents some must-have features in each CXM software. If you are looking for CXM software to manage the customers on your brand, then keep reading this blog. It will make your selection easy, and in the end, it will also tell you how Lucidya can be more helpful for managing customer experiences. So let's get started.
Features of Customer Experience Management Software
Now when you are out buying a solution to manage your potential customers, you should go deeply with the tool of every service provider to make sure it includes all the essential features and fulfill all the needs of your brand. Feel free to reject a CXM which does not include the following features.
Omnichannel Data Collection
One of the key features that you can find in every popular CXM is the collection of data at a single channel or the central database. Every customer experience strategy must support omnichannel features. As you know, there are different social media channels where your potential customers can follow your brand. So a good CXM must record the single movement of the customers on every channel and record it on a centralized channel to identify the brand's quality and performance.
When an omnichannel collects all the data and activities of the customers, the company can work closely to the customers' interests to retain them for a long time. It is possible when CXM software provides equal services on each channel, and it can be through email, SMS, calls, and other mobile and social media apps. If a CXM stores each platform's data on a different channel, then it can be hard to gather insights from this data. So always look for omnichannel features to prevent such problems. Lucidya offers this feature to make it generate hypotheses.
Customer Management
The main task of CXM software is to manage customers. It helps gather details of the customers and tracks all the customers' movements on each channel. It also makes it easy to understand the issues of the customers. A good CXM provider offers full database access and company to the consumers. So when you buy a CXM solution, nothing can be more before look how it provides services to track and manage your customers. If a CXM fails to track the movement of customers, then you should try another to prepare your brand to grow.
Ticket Management
CXM offers multiple services, and the best CXM must provide visibility of the entire customer tickets to your brand. It also prevents the issues from slipping in the cracks. It allows you to customize automation about your brand and run the business according to your customer requirements. It also provides ticket routing with additional fields that one can change according to business needs. You have to look for ticket management features while choosing the best CXM for your brand.
Products and Inventory
Lucidya's CXM software includes a built-in product database for tracking your customers easily. It lets you post about your products to know how they will behave after coming to market. You can associate each product with your potential customers and contacts. It catches their attention and passes through their eyes while scrolling down in social media accounts. In this way, you will be able to check the customers' preferences on each product separately to help you predict the future of a product. The customer can ask for improvements, and CXM will collect all these preferences to gain meaningful insight. You can use this data to stay close to your customers by fulfilling their requirements
Collaboration
A CXM must provide excellent collaboration skills to communicate with the customers and team members. Lucidya provides an internal tool for communication, and you can also make a calendar of the task and assignments about the brand's different projects. Teamwork is necessary to build a product that every organization wants from its employees. So a CXM must decide the tasks of all the members to ensure the project completes within time.
Integrations
CXM software provides effective integration with different business systems to help the brand discard the effort of repeatedly doing the same things. CXM software integrates with CRM (Customer Resource Management), web development tools, and other business applications to increase collaboration and coordination among various teams. While buying a CXM, you must check that it includes API essential for integrating internal components. If a CXM does not provide this crucial feature, you should reject it without further ado and go with some other software solution to manage your customers.
Integration is needed to associate all the software you use in your company. No matter you have a small company or a bigger one? So when you are going to buy CX software, you have to consider its integration features. If it allows you to integrate other software you are using in your company, you should consider it. Otherwise, it would help if you tried something else.
Customer Service Automation
Most of the CXM software provides quick and automatic responses to their customers. It helps to answer the calls and queries of the customers automatically without time limits. It asks the companies to add quick questions and answers to speed up the process. The companies can also add a knowledge base about the brand to make it easy for the customers about the services and features of the product. It provides the services 24/7 by automatically responding to the customer's queries without the need of any human responder.
Reporting and Analytical Feature
Most of the CXM offers excellent tools for analyzing the customers' data to help business understand their needs and improve the quality of the products. You have to select CXM software that will give you real-time customer insights. Lucidya offers excellent analytics to track customer interactions and predict a specific product.
Complete Control over Customer Interaction
CXM software makes businesses able to work according to the interests of potential customers. A good CXM software gives you complete control over the customers' data to customize the data of your requirements to make it precise. When you have a customized solution, you will be close to your objective, which makes it clear whether it is leaving any impact on your goals or not.
Useful dashboard
Most of the CEM software offers a single view, but it also allows the owners to change it according to the requirements of various departments. So it will present different data to sales representatives from marketers. All companies must assign a particular task to other company sectors. When each department sees the relevant info, they can build meaningful insight quickly and efficiently as a lot of unnecessary data can lead to disaster. So always choose a customer experience management software with a useful dashboard that can help organize data used in one place.
Why Choose Lucidya?
Now when you have an idea about the standard features of CXM software, it's time to tell you how Lucidya can be a better choice for you. The primary purpose of Lucidya's CXM software is to track customer experience, provide solutions to meet different needs, and take your brand to an innovative and efficient place. It offers the following features that make it popular in the industry.
It helps to personalize all customer interactions.
It includes a module of customer feedback in which some questions are asked from the customers to know their preferences.
It supports each brand module and helps predict the future of a particular product.
It ensures customer engagement.
Record even a single click of customers on your brand
It targets the audiences where the product will sell highly
So if you want the best software solution to manage customer experience, try lucidya as well.
Follow us on social media